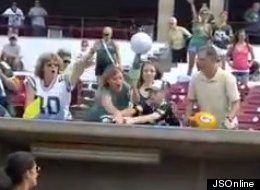 Green Bay Packers wide receiver Donald Driver seems to have gained a whole new group of fans after winning the 14th season of Dancing With The Stars. And those fans apparently want any piece of Driver memorabilia they can get their hands on, even if it comes at the expense of a young Packers fan.
Following Donald Driver's annual charity softball game (five years running) on Sunday, the 14-year veteran showed appreciation for his fans by staying late after his teammates went into the clubhouse and signing autographs. Just before Driver made his way into the dugout, he tossed some equipment into the stands, including one of his cleats intended for a young boy.
But a woman holding a replica Mirror Ball trophy, a tribute to Driver's recent DWTS victory, intercepted Driver's pass and wrestled the shoe away from the boy.
After JSOnline.com posted a video of the incident (watch above) and Deadspin posted its own GIF of the snag, Driver tweeted that he wanted ensure the boy gets what he deserves.
@Donald_Driver80

Donald Driver