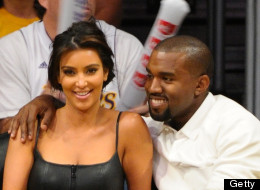 Kanye West certainly loves to namedrop in his music.
In fact, the outspoken rapper recently made headlines for waxing lyrical about his feelings for current squeeze Kim Kardashian. And celebrity references in his tracks have ranged from the incendiary (dissing Kardashian's ex) to the benign (creating wordplay with the names of sitcom actors).
In honor of Yeezy's 35th birthday this week (June 8), we've surveyed his oeuvre to find 35 stars he's name-checked. Which is your favorite?
Celebrities In Kanye West Songs
"My psychic told me she have an ass like Serena, Trina, Jennifer Lopez, four kids/And I gotta take all they bad ass to show-biz" --"Gold Digger"

"My dawgs couldn't tell if I/I look Tom Cruise on 'Vanilla Sky,' it was televised" --"Through the Wire"

"She got a light-skinned friend look like Michael Jackson/Got a dark-skinned friend look like Michael Jackson" --"Slow Jamz"

"I'm just trying to say the way school need teachers/The way Kathie Lee needed Regis that's the way I need Jesus" --"Jesus Walks"

"'Cause I'm Jake Gyllenhaal/I'm in the hood with the bubble with a tall model broad like I took her from Russell/didn't play the cards I was dealt, I made the dealer re-shuffle" --"Looking for Trouble"

"Any girl I cheated on, sheets I skeeted on/I couldn't keep it home, I thought I needed a Nia Long" --"Touch the Sky"

"Only playa that got robbed but kept all his jewelry/Alicia Keys tried to talk some sense to them 30 minutes later seems there's no convincing them" --"Diamonds from Sierra Leone"

"You got Ds mother f***er, Ds, Rosie Perez/And yes, barely pass any and every class" --"Good Morning"

"And I'll admit, I had fell in love with Kim/Around the same time she had fell in love with him/Well that's cool, baby girl, do ya thang" --"Way Too Cold"

"You can't fathom my love dude/Lock yourself in a room doin' five beats a day for three summers/That's a different world like Cree Summer" --"Spaceship"

"I'll never be picture perfect Beyonce/Be light as Al B., or black as Chauncey/Remember him from Blackstreet" --"Everything I Am"

"Revolution ain't a game/It's another name/For life fighting/Someone to stay in they corner like Mike Tyson" --"My Way Home"

"Feel like Amerie "It's this one thing"/When they said that she made it/You see the eyes gleam" --"Roses"

"We was sort of like Will Smith and his son/In the movie I ain't talkin' 'bout the rich ones/'cause every summer he'll get some" --"Champion"

"When it feel like living's harder than dyin'/For me givin' up's way harder than tryin'/Lauryn Hill say her heart was in Zion/I wish her heart still was in rhymin'" --"Champion"

"I guess I'll clean up my act like Prince'll do/If not for the pleasure, least for the principle" --"Champion"

"But I can't complain what the accident did to my Left Eye/Cuz look what a accident did to Left Eye" --"Never Let Me Down"

"First Aaliyah and now romeo must die/I know a got angels watching me from the other side" --"Never Let Me Down"

"Let you tell that man I'm falling/Well somebody must've caught him/Cause every fourth quarter, I like to Mike Jordan 'em" --"Never Let Me Down"

"My money was thinner than Sean Paul's goatee hair" --"Last Call"

"Though the fans want the feeling of A Tribe Called Quest/But all they got left is this guy called West/Better take Freeway, throw him on tracks with Mos Def/Call him Kwa-lI or Kwe-li/I put him on songs with Jay-Z" --"Last Call"

"You'll sell everything includin the mannequin/They got a new bitch now you Jennifer Aniston" --"Gone"

"You a big L, and I ain't talkin 'bout Cool J" --"Gone"

"Caught somethin on the Usher tour he had to 'Let it Burn'" --"Gone"

"How am I suppose to stand out when everyone get dressed up/So yeah at the Grammys I went ultra Travolta" --"The Glory"

"In two years the Dwayne Wayne became the Dwyane Wade" --"The Glory"

"Got caught with 30 rocks/the cop look like Alec Baldwin" --"Gorgeous"

"Look like a fat booty Celine Dion/sex is on fire, I'm the King of Leon-a Lewis" --"Dark Fantasy"

"I'm so appalled/Spalding ball/Balding Donald Trump taking dollars from y'all" --"So Appalled"

"Prince William's ain't do it right if you ask me/'Cause I was him I would have Mary Kate and Ashley" --"N****s in Paris"

"What's scary to me is Henny makes girls look like Halle Berry to me" --"The New Workout Plan"

"With some light-skinned girls and some Kelly Rowlands/In this white man's world we the ones chosen" --"Power"

"Let's get lost tonight/You could be my black Kate Moss tonight" --"Stronger"

"And I'm still Cole like Keyshia's family" --"Barry Bonds"

"You know how long I've been on you?/Since Prince was on Apollonia/Since OJ had Isotoners" --"Stronger"