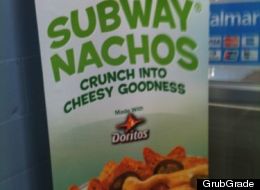 In February, Taco Bell debuted the Doritos Locos taco, an item that has done so well that the chain is rolling out other Doritos-flavored tacos. HuffPost Food immediately realized that Taco Bell was onto something -- which is why we sampled Doritos with a lot of other fast food items, including McDonald's chicken nuggets, a Chipotle burrito and a Subway sub.
The Subway sub was one of our favorites, so we are rather amused to learn of initial reports that Subway is in fact now testing its own version of a Doritos-heavy project: nachos made with Doritos chips. These Subway nachos have been spotted in the Nashville area and appear to be rather simple: Doritos, jalapenos and nacho cheese.
Twitter reports are trickling in but don't expect these nachos at your neighborhood Subway location. Subway has confirmed to HuffPost Food that the chain is testing the nachos at non-traditional locations such as department stores (think Walmart) and amusement parks. As of now, it is just a test product in some of these locations.
Subway in the U.K. already offers nachos, but the dish is made with corn chips rather than Doritos.