What, exactly, does a visit from the President of the United States do for a company's business? When D.C.-area sandwich shop Taylor Gourmet got one on May 16 (Obama was there for a discussion with small business owners), the folks behind the counter wanted to find out.
Wouldn't you know it, turns out the Prez is as good an advertiser as any. According to an infographic compiled for Taylor Gourmet by creative agency JESS3, news of POTUS's visit began trending nationally 15 minutes after it started picking up steam in D.C.
By the following week, Taylor Gourmet's viral Facebook reach expanded by nearly 251 percent. Before Obama's visit, Taylor Gourmet shops sold his order, the Spruce Street hoagie, on average 21 times a day. Now, they're selling 53.
The Commander in Chief phenomenon isn't limited to Taylor Gourmet. Presidential patronage has helped a slew of restaurants, including Lucy's Grill and Bar in Kailua, Hawai, which the Obama family visited while on vacation in 2010.
A local news station reported that the eatery experienced a boom in business once news spread. The same piece revealed that according to Secret Service staff, a restaurant visited by the president usually sees a 15 to 20 percent increase in sales.
Businesses near Ohio State University made sure to prepare for large crowds ahead of the president's visit last month.
"A presidential visit is beneficial to any business in the area," Lindsay Farkas, assistant manager at local eatery Roosters Wings, told university publication The Lantern. "It should draw people into Columbus from all over Ohio, even other states."
Check out the full Taylor Gourmet infographic below.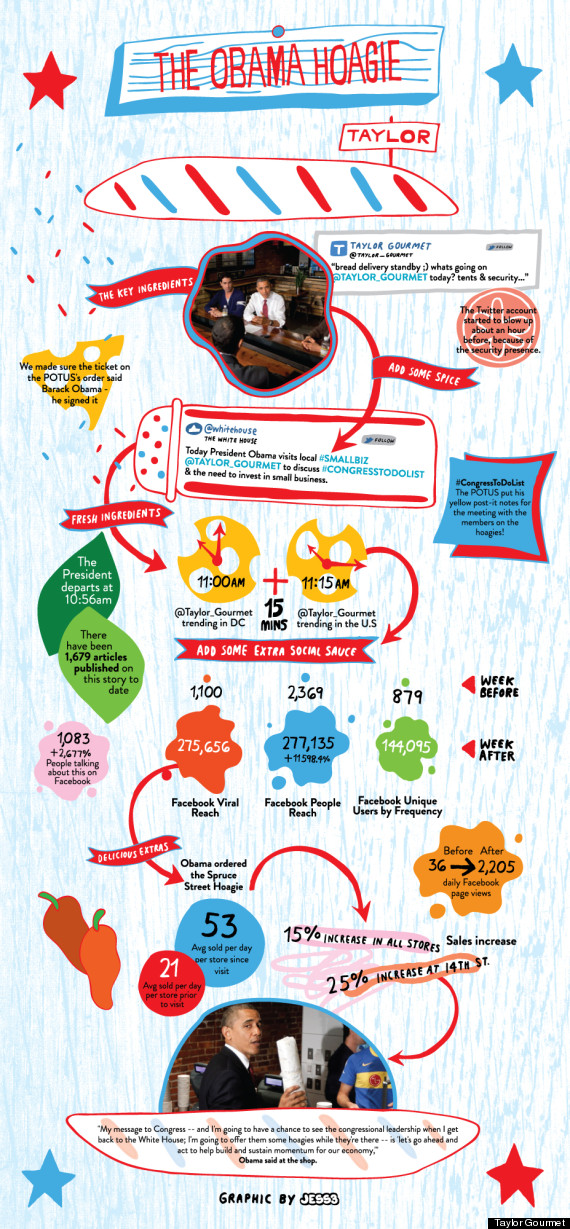 Correction: An earlier version of this post stated Taylor Gourmet locations each sold 21 hoagies a day on average before Obama's visit and 53 afterward. It has been updated to reflect that the numbers were for Spruce Street hoagies, one of the sandwich types sold.
FIRST FAMILY-APPROVED RESTAURANTS:
SUBSCRIBE TO & FOLLOW THE MORNING EMAIL
The Morning Email helps you start your workday with everything you need to know: breaking news, entertainment and a dash of fun. Learn more