Hey, Pass Me A Beer! (VIDEO)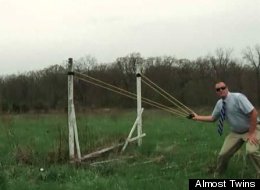 There are a lot of reasons to like Milwaukee. They have been known to baste their burgers in butter. Their bars are world-class. They put bacon in their Bloody Marys and serve them with the cutest beers imaginable.
Here's one more reason: they take passing each other a beer quite seriously. We'd like to thank cousins Jake and Jack of Almost Twins for all their hard work, dedication and good aim with a slingshot.