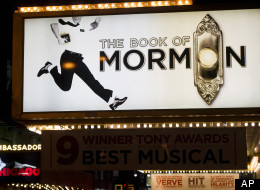 It's the most expensive ticket on Broadway, but yesterday some lucky fans of "The Book Of Mormon" got to cheer Joseph Smith on for free.
Midwesterners and New Yorkers alike streamed into the Eugene O'Neill Theater Wednesday for the show's second "Fan Appreciation Day," a bonus matinee performance staged for winners of a special lottery and their guests. Seating was first come first served, meaning if you queued early enough, you could snag one of those record-breaking $487.25 orchestra seats with nary a penny spent.
Aside from attracting a bargain-delirious crowd, the show marked the last for Josh Gad, who has played the lying, sweating Elder Cunningham to acclaim since "The Book Of Mormon" began. Gad, an increasingly recognizable face onscreen who's set to star in the NBC series "1600 Pennsylvania," (which he co-created) teared up as he took his bows with co-star and Tony nominee Andrew Rannells, who will be leaving the show for more televised pastures ("Girls"!) soon himself.
But we're getting ahead of ourselves. Before the applause and the bows and the Cartman-voiced Jesus, there was an entire period of waiting in line outside the O'Neill. Click through our slideshow below of queued-up winners from across the country, some of whom flew in just for the event, and check out a frank onstage intro from Trey Parker, who only wants to get rich, below that.
"Book Of Mormon" Fan Appreciation Day
Scott Dennis and Eden Sela were the first ticket-holders to arrive for Wednesday's show, at midnight. They camped through the night, and ended up getting the seats they'd hoped for: central orchestra, row F, a location they settled on after "consulting with many theater-goers."

After attending their nephew's graduation ceremony at NYU last week, Ben and Deb Vanderkoois returned home to Minnesota only to find out they'd won the ticket lottery, which they'd entered on a whim while in New York. They used airline points and flew back for the day. "It seems like there's a lot of ins and outs in this city and you have to know someone to get tickets. But this was pure luck," Deb told us.

Laurie and Steve Harris are veterans of the standard discounted lottery system: that's how they saw "Wicked," "Memphis," "Million Dollar Quartet," "Young Frankenstein," "West Side Story," and "In The Heights." But Wednesday's experience was novel for more reasons than the absolutely free entry. Steve -- who's never seen an episode of "South Park" (Laurie's seen one) -- expected the notoriously raunchy musical to be "a little shocking, even for me."

Actress Sarah Donaldson ("Grease") won two tickets through the discounted lottery but wasn't able to make that show. When she won again for Fan Appreciation Day, she brought her mom, Antoinette. "I think the best thing we saw all day today while we were waiting in line were the four Mormons across the street taking pictures and pointing to the sign," Antoinette told us.

Matthew Nieves, a theater buff with 62 shows under his belt, entered the lottery twice before getting lucky. He and his companion Angela Pedoncin guessed if they hadn't won tickets this way, they wouldn't have been able to get them until 2014.
WATCH "Book Of Mormon" co-creators Matt Stone, Trey Parker, Robert Lopez and director Casey Nicholaw below:
Gazelle Emami contributed to this piece.