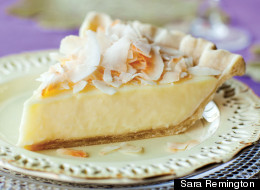 In the summer, the last thing most people want to do is slave over a hot oven, even if it's the perfect season for desserts like cherry pie, blueberry pie, berry cobbler or plum crisp. That's when refrigerator and freezer pies come into play -- these pies don't require much more than baking the crust (or you can use a store-bought crust). Most of the fillings can easily be whipped together and poured right into the crust to chill, either in the fridge or freezer (some fillings require brief cooking because they contain eggs). Find the recipe that appeals to you and serve it up at your next summer shindig.
If you've got an amazing pie recipe, submit it to our Pie Recipe Contest.
This vanilla pudding pie recipe gives you three dessert options: make a standard vanilla pudding pie, a banana pudding pie or a coconut pudding pie. You'll want to chill it for at least 1 hour before cutting in. Get the Vanilla Pudding Pie recipe

Espresso powder enhances the flavor of the chocolate in the custardy filling of this ice box pie. Chill for at least 6 hours and serve with copious amounts of whipped cream for a heavenly dessert. Get the Chocolate-Espresso Cream Pie recipe

This no bake chocolate-raspberry pie has a secret ingredient -- silken tofu! It makes the dessert creamy and smooth like a mousse. The pie only needs about 2 hours in the fridge to firm up. Get the Chocolate-Raspberry Pie recipe

This pie recipe layers vanilla cream, white cake and chocolate ganache inside a buttery cookie-like crust. It's a unique take on the classic Boston cream pie. Make sure to chill it for at least 3 hours or, better yet, overnight. Get the Boston Cream Cake Pie recipe

Banoffee is a mash-up of the words banana and toffee -- this tart has both. The wafer crust has toasted pecans and toffee bits, and the creamy filling has layers of banana slices. Chill the tart for 4 hours in the pan, then remove it from the pan and top with the whipped yogurt before serving. Get the Banoffee Tart recipe

This version of key lime pie combines sweetened condensed milk and plain yogurt to create a silken filling. Instead of whipped cream, it gets topped with meringue that's browned slightly under the broiler. Chill the pie at least 4 hours or up to 1 day before topping it with the meringue. Get the Key Lime Pie recipe

Who can resist this pie, which combines milk chocolate and salty peanuts? Crushed peanuts go in the crust and get sprinkled on top. Chill the tart for several hours or overnight so the chocolate filling has a chance to set completely. Get the Milk Chocolate Pudding Pie with Salted Peanut Crust recipe

This mocha version of baked Alaska features a chocolate wafer crust, a layered filling of chocolate and coffee ice creams, and a billowy meringue topping. You'll want to freeze the pie for 2 hours, then top it with the meringue to toast in the oven, and finally freeze for another 2 hours. Get the Mocha Baked Alaska pie recipe

This decadent pie uses vanilla wafers as its crust and features an ice cream and candy bar filling, all topped with whipped cream and drizzled with caramel sauce. Freeze the pie for 6 hours or overnight. Get the Nilla Ice Cream Pie recipe

This pie barely requires any work when you use a store-bought cookie crust. The filling is made of ice cream, frozen cherries and chocolate chips. Freeze for 4 hours or overnight to ensure the pie has solidified. Get the Cherry Ice Cream Pie with Chocolate Cookie Crust recipe

This tart recipe is basically a meringue pie with raspberry puree folded into the egg whites. Freeze the pie for at least 6 hours before serving to get that parfait-like texture. Get the Frozen Raspberry Pie recipe

Any s'mores lover will appreciate this dessert, which takes all the classic ingredients of s'mores and creates an over-the-top pie with graham cracker crust, chocolate custard filling and marshmallowy meringue topping. Chill the pie for at least 3 hour or overnight before preparing the topping. Get the S'more Pie recipe

Learn how to blind bake a pie shell in preparation to make a lemon tart dessert.