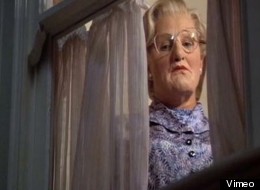 "Mrs. Doubtfire" isn't a horror movie -- "It was a run-by fruiting" is never not funny -- but that doesn't mean it can't look like a horror movie.
Created by Vimeo user Peter Javidpour over a year ago and recently unearthed by intrepid internet user Matt Cherette, the clip is dark and ominous in ways that recall Robin Williams' thrillers "One Hour Photo" and "Insomnia." There's also all that makeup work, which -- when viewed through the prism of a horror film -- seems awfully terrifying. What would Uncle Frank and Aunt Jack think?
Watch the spoof trailer above and check out some recent LOL-y trailer mashups and recuts below.
[via Matt Cherette]