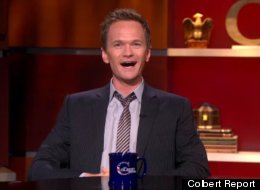 Neil Patrick Harris dropped by "The Colbert Report" this week ahead of his Tony Awards hosting gig to chat with his pal Stephen Colbert about Broadway theater as well as his "convincing" turn as a straight man on "How I Met Your Mother."
"I find you a threat, because you're the classic triple threat: you're an actor-singer-dancer," Colbert jokes. "But you're also the biggest threat of all, you're a gay person I like. Your threat is that you make being gay not seem threatening!"
As evidenced by the above video, the rapport between Harris and Colbert, who co-starred in an acclaimed production of Stephen Sondheim's musical "Company" at New York's Lincoln Center in 2011, is immediate.
After chatting about Harris' forthcoming Tony Awards hosting gig, Colbert praised the actor's role on "How I Met Your Mother," calling him "very, very convincing as a straight guy."
Check out the Tony Award nominees below:
Tony Awards 2012 Predictions
Will win: "Newsies." Should win: "Once." This is the battle of extremes - the stripped-down, bittersweet magic of "Once" versus the pump-you-up appeal of classic razzle-dazzle in "Newsies." Both are a great night out, just different. Both came from movies and only "Newsies" has new songs written specifically for the stage, giving it an edge with Tony voters. But "Once" just makes you feel, well, good. As for the other contenders, "Leap of Faith" doesn't have a chance since it's already closed, and "Nice Work If You Can Get It" is a fun romp, but not as strong as its cousin "Anything Goes."

Will win: "Clybourne Park." Should win: "Clybourne Park." Bruce Norris' sly, edgy gem has the same heat on it that Jon Robin Baitz's "Other Desert Cities" had when it opened in the winter. That doesn't make it better, just fresher. Both plays prove Broadway is putting on great American works again. The oh-so-cool "Peter and the Starcatcher" and the naughty "Venus in Fur" are inventive and bold, but not broad enough to tickle everyone.

Will win: "Death of a Salesman." Should win: "Death of a Salesman." Arthur Miller's masterpiece is timely and there is so much to like - the recreated original set and music, the directing of Mike Nichols and the performances by Philip Seymour Hoffman, Linda Emond and Andrew Garfield - that even if one part leaves you cold, the others will not. The revival of Gore Vidal's "The Best Man" was also timely and had the season's most insane collection of talented stage actors ever assembled, but it attacked your head. Miller's play took your guts.

Will win: "Follies." Should win: "The Gershwins' Porgy and Bess." The only thing certain in this category is that the two revivals from Tim Rice and Andrew Lloyd Webber - "Evita" and "Jesus Christ Superstar" - will cancel each other out, leaving the prize between a proud, confident Stephen Sondheim revival against the show he denigrated before it opened. That was uncool, especially when the re-imagined opera turned out to be rather stunning as a musical. But Sondheim's dirt-throwing may make Tony voters squeamish, leaving "Follies" the win. "I Loves You, Porgy," indeed.

Will win: Philip Seymour Hoffman ("Death of a Salesman"). Should win: James Corden ("One Man, Two Guvnors"). That sounds insane, right? A deeply affecting Willy Loman losing to a British clown? But, if you recall, Hoffman's performance wasn't universally cheered, while Corden's has been. Corden might be brimming with humor as much as Hoffman is stalked by sadness, but in terms of MVP, imagine taking Hoffman out of "Death of a Salesman." Now imagine "One Man, Two Guvnors" without Corden. Miller's play would still float, but the farce would likely sink.

Will win: Someone who deserves it. Should win: Tracie Bennett ("End of the Rainbow"). Sorry, but anyone trying to find sunlight among the five women in this category is doomed. Like last year, it's just too hard. Nina Arianda is painfully delicious in "Venus in Fur," Tracie Bennett is insanely good in "End of the Rainbow," Stockard Channing is brilliantly brittle in "Other Desert Cities," Linda Lavin is arch and hysterical in "The Lyons," and Cynthia Nixon was heartbreaking in "Wit." No offense to any of them, but Bennett's performance is the complete package - acting, singing and descending into pill-popping madness. Perhaps the wisest course is to abandon the attempt and cheer the sheer strength of women on Broadway.

Will win: Steve Kazee ("Once"). Should win: Norm Lewis ("The Gershwins' Porgy and Bess"). This category is also pretty wide open, with the veteran Danny Burstein of "Follies" and the up-and-coming Jeremy Jordan of "Newsies" leading most polls. But Burstein may lose votes to his "Follies" co-star Ron Raines, and it may be too soon this year for the talented Jordan, who undoubtedly will have many Tony ceremonies to come. The effortless ease in which Steve Kazee played the aw-shucks hero in "Once" acts against him, especially against Norm Lewis, who shuffles across the stage and belts out his songs in "The Gershwins' Porgy and Bess" from a deep, vulnerable place. But Kazee should benefit by riding his musical's winning Tony wave.

Will win: Audra McDonald ("The Gershwins' Porgy and Bess"). Should win: Audra McDonald. Audra McDonald is this year's Sutton Foster - the clear leading candidate. But Jan Maxwell in "Follies" was astonishing and she's an honorable silver to McDonald's gold. McDonald has four Tonys already, but never for a lead actress. That will change Sunday and deservedly so. She is graceful and tender and strong - and simply the best thing about Catfish Row. Tony voters will sing "I Loves You, Bess."