Prom Proposals: Adorable Prom Proposal With 1,500 Balloons! (VIDEO)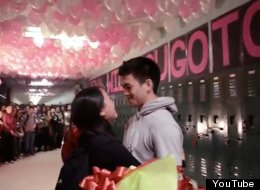 We've seen some pretty amazing promposals here at HuffPost Teen, but just when we thought the prom season was officially over, an ultra-adorable video came along to make us "awww" all over again. When Tina's boyfriend Matthew asked her to prom, he set out to make his proposal as special as the big night itself. So he gathered friends to help him inflate 1,500 pink balloons, hang streamers from the ceiling, and put up a handmade sign that read, "Tina, will you go to prom with me?" A crowd had gathered in the hallway and he gave his blindfolded girlfriend a piggyback ride to the decorated hallway. When she takes off the blindfold, let's just say her reaction is priceless -- think of every high school romance movie you've ever seen. It's that cute. Check out the adorable video above to see for yourself. (Spoiler alert: She says yes!)
In other super-sweet promposals, one student proposed atop a firefighter's ladder, while another invited her longtime crush with the help of a billboard. And yet another asked his childhood flame to prom by answering her fifth-grade love letter -- eight years later.
While it may be too late to plan a swoon-worthy promposal for this year's prom, it's never too early to start thinking about next year. Check out our round-up of the 10 cutest promposals on YouTube for inspiration!
So, what do you think? Are these proposals over the top or too cute for words? Sound off in the comments below or tweet your own #promposal stories @HuffPostTeen!