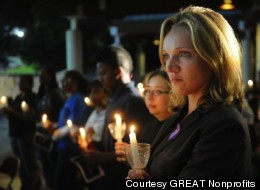 You've voted for the top green nonprofits, picked the best organization helping animals, and awarded a local group the top spot for helping needy families.
This month, help decide which local women's empowerment nonprofit deserves the title of "HuffPost Impact's Top Local Nonprofit of the Month."
From dating violence to women's education; international grants to community-building -- here are the top contenders, put together by GREATNonprofits.org, with reviews and testimonies from real volunteers or women who have received help.
Think one of these organizations takes top prize? Cast your vote below for the nonprofit you think is doing the most inspiring work.
DIRECTIONS: In the slideshow below, give any nonprofit you feel is deserving 1-5 stars. The nonprofit with the most stars at the end of the month wins the title of HuffPost Top Local Nonprofit of the Month.
SLIDESHOW:
Top Women's Nonprofit of the Month!
"My love for 5 for Fairness has only grown since I have become involved with the organization. Not only does it provide $5,000 grants to people in need, it also forms a community unlike any other social media outlet. It is a place where everyone has a common goal which is: to help people. The website focuses on helping women across the world and enlightens all of it's members continuously with inspiring and profound stories." Submitted to GREAT Nonprofits by username Sophie K.

"I joined AAUW (American Association of University Women) to give back to my community and to support their mission of advancing equity for women and girls through advocacy, education, philanthropy, and research. What I received in return was friendship with like-minded women and the knowledge that I was helping to make a difference for women and girls both in my local area, as well as nationally." Submitted to GREAT Nonprofits by username Pam T.

"AIWR (Alliance for International Women's Rights) is making substantial and enduring contributions to girls' education in Afghanistan. The girls risk their lives every day to come to school and learn; they are eager, sincere, and courageous. It is a tremendous honor to connect with Afghan students and work with them to improve their English language reading, writing, speaking, and listening skills." Submitted to GREAT Nonprofits by username Kelly29.

"AWIS (Association for Women in Science) is an organization that helps to give women in the sciences and engineering not only a voice, but a sense of community that they may not have in their places of study or work. It is organizations like these that will help to transform and motivate the other half of the national (and even international) part of the workforce." Submitted to GREAT Nonprofits by username jchoi.

"I have been volunteering to help better the lives of teens through Be The Star You Are, since I was a teen myself. Be the Star You Are works to promote literacy through positive media. I personally felt empowered through my involvement. This charity is one that I love and believe all in the community should show their personal support for." Submitted to GREAT Nonprofits by username Heather.

"As a volunteer and supporter of the Becky fund, it means a lot to me to know that there is an organization that fosters the awareness of domestic violence. As a ...victim, being a part of the Becky fund and having to opportunity to see how hard the organization works to encourage the advocacy of such violence has not only elevated my awareness, but has also provided me with the knowledge and the tools to enhance the awareness of others." Submitted to GREAT Nonprofits by username VSCHW.

"Beaten and broken -- and literally broke (I had $87 to my name) -- I ended up in a PADV (Partnership Against Domestic Violence) shelter with my two small children and one suitcase. It changed my life. From the support groups to the legal aid to the friendships I built while there, PADV helped me put the pieces of my life back together again. It wasn't just that they gave us sheets and towels and food -- they gave women like me a chance to find ourselves again, to find our strength." Submitted to GREAT Nonprofits by username chelton.

"The summer I spent with PLEN (Public Leadership Education Network) in Washington, D.C. was the most life-changing summer of my life. PLEN opens young women up to a whole world of possibilities for involvement and careers in public leadership. I was so inspired by my PLEN internship with legal nonprofit Equal Justice Works and left that summer confident that I could succeed as a civil rights lawyer and I could make positive contributions to solve social problems. Submitted to GREAT Nonprofits by username Ksplett.

"Connecting with Sisters4Sisters four years ago has been a valuable and inspiring support system for my personal growth. Sisters4Sisters has provided me with the opportunity to be a part of a community of fascinating women whose sole purpose is to lift women up higher. It has given me a chance to reconnect with myself, connect with other women, and get in touch with the bigger story of why I'm here and what I can do to serve and honor my higher power." Submitted to GREAT Nonprofits by username Butterfly808.

"I have noted the life-changing work of VGIF for nearly 10 years. They are very consistent and dedicated to their mission of changing the lives of destitute, but determined to succeed, women and children. Consistency in vision and mission are factors that make a charitable organization stand out and VGIF has over-delivered on this and continues to do so." Submitted to GREAT Nonprofits by username musu.