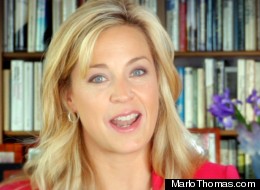 Tech expert, Jennifer Jolly, sat down with me and told me all about the big developments happing in the technology world right now. From her musings on what Apple has in store with the iPhone 5 to big changes in robotics, her answers are sure to surprise you!
Check out some of Jennifer Jolly's must-have gadgets and tech apps:
Jennifer Jolly's Tech Apps
Of all the smartphones, the iPhone's tend to the most intuitive, and are a favorite among women who are up to speed and on the go. iPhones have the most apps and work really well with all other Apple products, like Macbook laptops and iPads.

The Motorola Droid Razr is like a lot of the women reading this; small, sexy, and totally powerful. This phone has a battery life longer than some of our first marriages.

For the multi-tasking mom - which is all of us these days - check out the Samsung Galaxy Note - it's a smartphone and a tablet - all rolled into one device. What's really cool: the Galaxy Note has a unique tool called the S Pen. It let's you create handwritten notes or drawings... then send 'em out via text, email or on a social network

If you love to read and often carry a book or magazine with you wherever you go, an eReader or Tablet is a must-have. You can take your entire library with you, and access every single great beach-read from anywhere in the world. When you choose an eReader or tablet, make sure it's not too heavy for your handbag, and has a glare-free screen, so that you truly can read it anywhere you go.

Ditch the desk top and get a personal computer that is as versatile as you are. Your laptop should be lightweight, so that you can take it on the road without breaking your back, yet sturdy enough to keep up with your demanding life. I use a MacBook Pro and a Asus Zenbook. The Zenbook has amazing battery life and it's small enough to fit in my purse. The MacBook is Apple, which is my personal preferred operating ecosystem of choice, for how easy it all is to use and sync together.

The Nest thermostat is a gorgeous gadget. It keeps your house warm, or cool, by learning what you want, when you want it and making sure to give it to you. (I know, if only our partner's were that easy!) It also guides you to save money, by saving energy. You can control the thermostat from anywhere using a smartphone, tablet or laptop. Nest estimates you save at least $250 within two years, though I've already saved more in my old drafy house, just by having the heat off all day when no on is home.

There are a lot of great new fitness gadgets that help you take better care of your health. With the Fitbit, you just clip this tiny tracker onto your waistband or pocket. Then as you go about your day (or night), it monitors your steps, distance, sleep patterns, and even stairs climbed. It logs all of the activities you perform in one day, and when you hook it up to your computer, you can see how that data translates into an overall picture of your health (or lack thereof). What's great about it is how small and simple it is to use.

This is a beauty cleansing brush that will change your life, or at least, your skin. Smooth, shiny skin makes you look younger, and prepares skin for better absorption of creams, serums and moisturizers. In just 60-seconds, the Mia cleanses 6x better than traditional hands/washcloths, yet is gentle enough to use 2x a day.

Grungy, yellow stained teeth not only make you look older, they can make you feel really self-conscious too. Equipped with the most advanced technology to date, Philips Sonicare DiamondClean promises to remove up to four times more plaque than a manual toothbrush in four weeks. You can also charge it via USB right from your laptop or bathroom counter and it has several modes, like polish and sensitive, so that you can.

Treehouse Lab's Bikn, (like "beacon") truly is a ray of light for those of us who constantly lose our keys, sunglasses, and all of those other things we routinely misplace during the day. All you do is put a small Bikn tag on whatever it is that you don't want to lose. You're then wirelessly connected to a special iPhone case that can locate them -- and the tagged object -- with the click of a button. Pure magic.

This mobile app is like having a stress-free babysitter for your budget. All you have to do is sign up, download the free app, and link it to any and all accounts you want it to manage. It automatically organizes and tracks your money -- bank accounts, bills, credit cards, investments, travel rewards, student loans -- and there's even a calendar that shows when your next round of bills is due. Much easier to use than Mint.

Pinterest is a social network that's become the hottest online addiction for women since Farmville. The basic idea behind Pinterest is that it lets you create and share collections of stuff you like in any category you choose.

Based on WeightWatcher Point system except FREE. Apps for iPhone, iPad and Blackberry. Keep track of calories, exercise and more.

This new free app available for anyone who loves food and wants to share recipes with their friends and families.

This app allows people to use their phones to get family heirlooms or other items appraised they suspect might be valuable and are nervous to throw it away because it might be worth something. All you do is snap a few photos of the item in question, type up a description, then send it off for an appraisal for a flat fee of $9.99.

This free healthcare app for Apple and Android devices is disrupting healthcare delivery in a big way. For women over 40, iTriage has empowered women in this age bracket to take greater control of healthcare decisions that they may have previously only placed in a physicians' hands. Physicians once guarded their medical secrets and knowledge, but two emergency physicians from Denver, Colorado decided to give their medical knowledge away for free and it is changing the way women are taking charge of their health. Almost six million people have downloaded the app and though we are not given the breakdown of men versus women on those downloads, we do know that women are in the driver's seat of their family's healthcare decisions.

This is a great app for the iPhone and Android. It works like a paperless scanner. I have used it to scan contracts, school schedules and fliers that contain services I might need around the house. I then upload a PDF to a Dropbox folder and I have the information that I need from any platform without having lots of extra papers tucked away. This is also a good app for parents with younger kids who have found themselves driving over to another family's house at night to make a copy of pages in a textbook because their child forgot to bring it home. Instead of making copies, use camscanner. It is better than snapping a photo because it cleans up the resolution.

This is one of the most popular iPhone shopping apps. Just check out iTunes, where the app has a 4.5-star rating from more than 850 reviewers. After testing RedLaser, I can see why it enjoys such high ratings -- it's a simple barcode scanner app that works incredibly well. The RedLaser app is designed to help you compare prices on any number of items by scanning a barcode with the iPhone's camera. To start scanning items, tap the small lightning bolt icon on the bottom of the display and line up the barcode within the arrows. The arrows will turn green and you'll see a "hold still for scan" message while the app does its magic. After the scan is complete, results pop up in one or two seconds. I was super impressed with how quickly the RedLaser app posted results.

Leave your wallet at home, the Pay with Square app lets you pay with your smartphone or even in some cases by saying your name. The Square app uses GPS to locate exactly where you are and if you are near a business you have created a tab with. Set up a payable tab for businesses who have the corresponding Square functionality right through the app. Your credit card is linked to your account and your name and photo appear on the businesses technology, confirming you are who you are. Can you imagine when all shopping is made this easy?
Add Marlo On Facebook:
Follow Marlo on Twitter:

Weekly Newsletter

Sign up to receive my email newsletter each week - It will keep you up-to-date on upcoming articles, Mondays with Marlo guests, videos, and more!

Sign up here