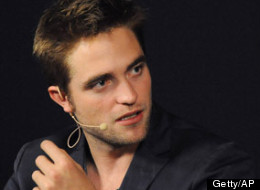 Hoards of "Twilight" fans will be lining up outside select theaters this weekend to watch Robert Pattinson sleep with Hollywood's finest leading ladies in "Bel Ami."
Unfortunately for RPatz, however, "Bel Ami" didn't win over critics. With only a 30 percent rating on Rotten Tomatoes, the movie adaptation of the Guy de Maupassant's 1885 French novel isn't quite the launching pad Pattinson needs to be taken seriously post-"Twilight."
"With that cast, we rightfully expect fireworks," wrote Rolling Stone. "What we get is the film equivalent of a wet blanket."
Over in TV Land, Fox's new celebrity dating show "The Choice" -- a rip-off of NBC's "The Voice" -- may have debuted to solid numbers, but The New York Times wasn't so impressed.
But that wasn't all -- take a spin through the gallery below for more.
Can these harsh critiques all be right? Or do these writers simply need to take a chill pill and relax? Let us know which critical torpedoes landed on deserving targets and which fell wide of the mark in the comments.
We understand that everyone has the right to have their own opinion, but comparing "Madagascar 3" to being "locked in a sweatbox" is a little too much, especially considering that this "Afro Circus" clip makes us laugh every time. Looks like The New York Post didn't find it as amusing. Describing this as the "best" of the abysmal animated "Madagascar'' trilogy is like indicating a slight preference for being locked in a sweatbox instead of waterboarded: Either way, you feel enormous gratitude when it's over.

Fox's "Voice" rip-off "The Choice" isn't winning over many critics. They say that imitation is the sincerest form of flattery, but according The New York Times, in this case, it's mockery. Like it or not, "The Voice" actually rewards talent. On "The Choice" there's nothing much to reward besides inane chitchat and the wearing of the shortest, tightest skirts imaginable. The result, as seen in Thursday night's premiere episode, is a show that looks like a beauty pageant crossed with a slave auction.

If Robert Pattinson wants to be known for anything other than "Twilight," he's going to have to try a lot harder than "Bel Ami." According to Rolling Stone, the film "begins promisingly" but then dissolves into one "star-studded" mess. With that cast, we rightfully expect fireworks. What we get is the film equivalent of a wet blanket.

Ridley Scott's "Prometheus" is not only inspiring heated office debates (just us?), but it's also getting mixed reviews from critics. The Village Voice is the latest to join the conversation. The same sense of buildup toward a payoff that never arrives--are we supposed to placidly await a sequel?--defines Prometheus. This feels less like deliberate open-ending than an inability to control tone and effect.

"Saving Hope" is NBC's new supernatural medical drama, but it's less "E.R." and more "The Sixth Sense." Apparently, the drama was too "greasy" for the San Francisco Chronicle. "Saving Hope" is kind of a lukewarm stew of ideas from other shows ("Grey's Anatomy," "Touched by an Angel," the finally out of its misery "A Gifted Man") and films ("Ghost," "The Sixth Sense") with stock characters and situations that occasionally jerk a demi-tear or two, but with absolutely no authenticity. The sloppy sentimentality is cheap and unearned, greasy camera lenses notwithstanding.

It pains us to write this -- because we love Greta Gerwig -- but not everyone was as in love with "Lola Versus" as we were. Slant magazine found the female-driven film to be "unconvincing" and narrow-minded. It's also a movie where everyone is supposedly an artist or a writer, but they all seem to lack the intelligence and inner life to create anything, even if we briefly glimpse its lead character, Lola (Greta Gerwig), defending her thesis.