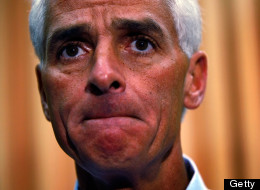 Allegations surfaced on Friday that former Florida Gov. Charlie Crist paid two men to conceal gay affairs.
The charges were revealed in documents obtained by local station WTSP, relating to the investigation of former Republican Party of Florida Chairman Jim Greer.
[Warning: graphic language below]
Controversy swirling around the connection between Greer and Crist is nothing new. During his Republican-turned-independent Senate campaign in 2010, Crist vehemently denied he had any knowledge of Greer's alleged scheme to divert state party funds to pay for his own personal expenses. Greer attorney Damon Chase, however, said at the time that the former governor signed off on the plan.
A Florida Department of Law Enforcement Investigative Report contains details on an exchange between Chase and John Morgan, whose law firm Crist works at in Florida.
Chase had contacted Morgan, as Chase believed Morgan was the attorney representing Crist, to set up a time wherein Chase could depose Crist. In essence, indicated to Morgan that if he (Chase) had to take Crist's deposition, Crist was not going to like what Chase asked as it would contain embarrassing things and would be used to impeach his testimony. When Morgan inquired what embarrassing things Chase was referring to, Chase indicated that he would be forced to impeach Crist by addressing the following issues: 1. Charlie Crist was a homosexual and had homosexual relationships with at least two men who were paid to leave the state to avoid embarrassing then Governor Crist. 2. Governor Crist kissed or attempted to kiss Greer at a hotel in Beverly Hills, California, 3. Governor Crist's drunken escapades, and how Governor Crist's security detail had to cover for him 4. Governor Crist attempting to run people over while intoxicated and operating a golf cart.
Morgan allegedly told Chase that his accusations were nothing more than inflammatory remarks intended to embarrass Crist and that even if the former governor were gay, they still wouldn't relate to the charges Greer faces or constitute grounds for impeachment.
According to the documents:
Morgan stated that if Crist were homosexual why would he try to kiss Greer, specifically stating, '(Crist) would have to be a sick son of a bitch to try to kiss Porky the Pig' in reference to Greer. Additionally, Morgan sent Chase an email indicating that it was his opinion that Greer was using Chase to extort Charlie (Crist) with embarrassing questions. Morgan indicated in his email that these types of questions were the same thing as asking, 'when was the last time you fucked the neighbor's sheep' or 'are you still beating your wife.'
The Tampa Bay Times reported last month that records indicated Crist believed Greer was trying to extort him. The former state GOP chair, however, denied that was the case.
Greer is expected to face trial on July 30.
UPDATE (June 9, 11:18 a.m. ET): WTSP reports that Crist reached out to the Florida station to respond to the allegations, calling the charges "a bunch of delusional lies." Click here for more from the initial report.
Below, a look back at gay sex scandals.
James Dale Guckert, aka Jeff Gannon, is a conservative reporter who was given access to White House briefings from 2003 to 2005. He was accused of tossing softball questions to President Bush and then accused of involvement with gay pornography and gay prostitution.

Ted Haggard's career as the President of the National Association of Evangelicals came to an end in 2006 when it was discovered that he had a relationship with a male prostitute.

From 1995 until 2006, Foley represented the 16th District of Florida as a member of the Republican Party. He resigned from Congress in 2006 after former and current male pages claimed he had sent them sexually explicit emails and instant messages.

In 2007 Senator Larry Craig (R-ID) was arrested for trying to solicit sex from an undercover police officier in a public bathroom at the Minneapolis airport.

Shortly after Sanchez received the first "Jeane Kirkpatrick Academic Freedom Award" at the Conservative Political Action Conference in 2007, it was revealed he had performed in gay pornography using the names Pierre LaBranche and Rod Majors.

Allen served as a Republican member of the Florida House of Representatives from 2000 to 2007. In 2007 he was arrested for offering $20 for the opportunity to perform fellatio on an undercover policeman in the restroom of a public park. Allen claimed that he only made the offer because he was fearful of the black police officer. He was convicted and resigned from the Florida House of Representatives.

During his service as a California State Senator from 2002 to 2010, Ashburn voted against gay rights legislation on numerous occasions. But in 2010 he was arrested for drunk driving after allegedly leaving a gay bar with an unidentified male passenger. Ashburn subsequently came out.

Rekers was an officer and scientific advisor of the National Association for Research & Therapy of Homosexuality (NARTH), a group that provides conversion therapy to gay people looking to become straight. In 2010 he hired a male escort from RentBoy.com to accompany him on vacation because he supposedly had a bad back and the escort was only there to "lift his luggage." The escort claims he gave Rekers "sexual massages" while on the trip and Rekers was forced to resign from NARTH.

Rep Hinkle (R-IN) allegedly solicited a "really good time" from an 18-year-old man on Craigslist. Though many called for his resignation, he refused to step down saying he only made "mistakes of judgement."

Arango served as a member of the Senate of Puerto Rico from January 2005 until August 2011 when he was accused of sharing nude photos of himself on Grindr.

Author Max Blumental discusses the religious right and gay sex scandals.