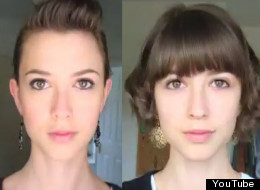 What makes a video go viral? There's an alchemy to the process that we'd like to investigate through the lens of art. By exploring the art of the viral video, we often find that lowbrow entertainment can stem from highbrow art concepts.
Today we are looking a the sensation that is a "Photo a Day" video, in which people chronicle their lives and appearances by snapping daily photos for an extended period of time. (Some extend for one year, others for half a decade or more.) We have compiled a slideshow of the best variations on the theme YouTube has to offer.
Behind the cheesy fonts and bad background music we see hints of a radical performance piece by artist Tehching Hsieh. For "Year Performance 1980-1981 (Time Clock Piece)" Hsieh punched a worker's time clock in his studio, on the hour, every hour, for an entire year. Just to hammer it in, this made it impossible to sleep for over 59 minutes at a time for an entire year! With each punch he took a self-portrait on a single frame of 16mm film, combining them to create a film depicting a year in his life at one second per day.
Although Hsieh's piece is a great deal more extreme than his YouTube followers, there is still a connection between the girl who chronicles her hair growth in her bedroom and Hsieh's sleepless nights. Check out the following YouTube "Photo a Day" viral videos and see if you think Hsieh's concept lives on.
What is a viral video was the most compelling to you, dear readers?
'Madandcrazychild' took her photo every day for 5.5 years. We are particularly impressed with her ability to make the exact same face every time!

JK took a picture of himself every day for 8 years. It's a real treat to watch him grow out of his awkward phase, explore new trends and eventually "find himself" as a Johnny Depp-esque bohemian.

This shows Ellora for 1100 days starting from babyhood! It is definitely the cutest video of the bunch,.

This guy does it every day for 4 years and himself dubs it "fascinating." We are particularly enthusiastic about the Weezer soundtrack and impressed with the number of times he wore a puka shell necklace over a 4 year period.

is man did it with polaroids, which was probably really expensive.

Here we see braces at work every day for 421 days. The results are really impressive!

Six years and still "a work in progress." We're impressed.

This man walked from Beijing to Germany, taking a picture every day. A worthwhile video both for the stunning tourist backdrops and watching his epic beard growth.