We knew it was coming: "Blossom" star Joey Lawrence inked a deal in May to join the popular Las Vegas revue the Chippendales for a three-week gig at the Rio Hotel and Casino. Now the first photos of the 36-year-old actor have emerged of Lawrence donning the trademark bow-tie-and-not-much-else gear from Friday's opening night performance, leaving us only to think -- you guessed it -- "whoa!"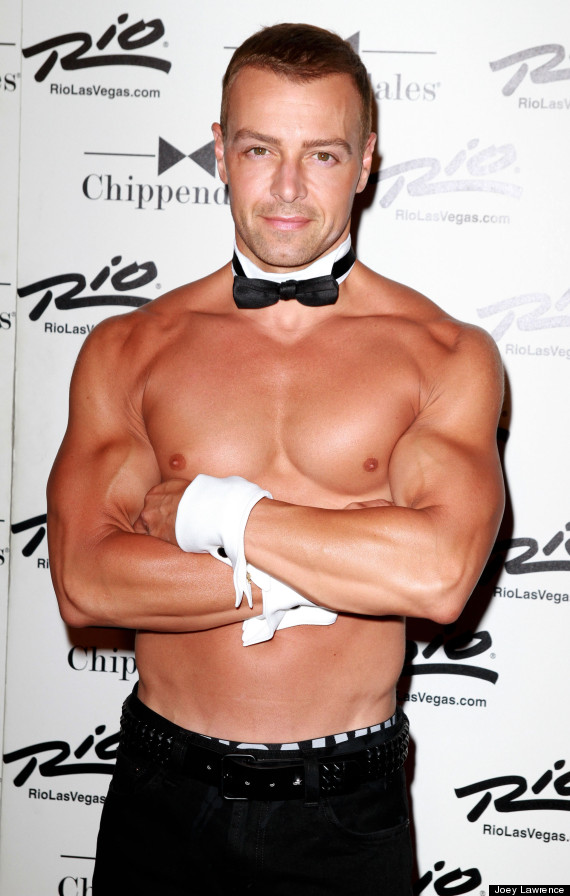 From Joey Lawrence to Channing Tatum in Steven Soderbergh's much-anticipated male stripper flick, "Magic Mike," check out other male celebrities who've tried their hand at stripping.
Loading Slideshow
Channing Tatum

If we didn't already know, all of the brouhaha over Steven Soderbergh's flick "Magic Mike" certainly would never let us forget it: Tatum worked as a stripper at a local nightclub in Florida before hitting it big in 2006's "Step Up." The best part? <em>Us Weekly </em><a href="http://www.usmagazine.com/celebrity-news/news/channing-tatums-secret-stripper-past-200929" target="_hplink">found a video of it</a> (NSFW).

Mike "The Situation" Sorrentino

Before he gained a bigger audience with "Jersey Shore," Sorrentino showed a strip club what "the situation" was all about -- by serving drinks shirtless. But he copped to <a href="http://juicytings.com/celebrities/mike-%e2%80%98the-situation%e2%80%99-sorrentino-stripping-days/#ixzz1v4QZnayX" target="_hplink">actually stripping down once</a>, telling Jay Leno on "The Tonight Show": "I really didn't like the costume ... My birthday is on the Fourth of July so they had some like, I don't know if I was Uncle Sam, but it was some sort of Uncle Sam with a thong and I wasn't really feeling it."

Jeff Timmons

The 98 Degrees singer kept things piping hot after his boy band with Nick Lachey all but dissolved: <a href="http://www.popeater.com/2011/05/25/eff-timmons-new-chippendales-deal/" target="_hplink">Timmons joined the popular Chippendales </a>revue in Las Vegas in May 2011, to much fanfare.

Jake Pavelka

Shortly after 98 Degrees singer Jeff Timmons, "Bachelor" star Pavelka followed suit. Well, sort of: The former pilot-turned-reality-show-star tried his hand at hosting the notorious male revue in early 2012.

Javier Bardem

The Spanish hunk proved he was more than just a beefcake (hello, "Jamon, Jamon") when he took a chilling turn in the Coen brothers' 2007 flick, "No Country For Old Men" (and won an Oscar for it too). But at around age 20, Bardem was strapped for cash so he turned to stripping one weekend, then did what any guy would do: invite his mother. "I danced one night in a place, there was a club. And they asked for a guy to kind of make a striptease and I did it... It was for ten minutes. I needed money ... My mother was there in the audience. She was so proud," <a href="http://www.contactmusic.com/news-article/bardem.s-stripping-past" target="_hplink">the actor has said</a>.

David Hernandez

Former "American Idol" contestant David Hernandez caused a tabloid scandal when near-naked photos of the singer emerged and it was revealed that <a href="http://www.mtv.com/news/articles/1582721/american-idol-david-hernandez-worked-stripper.jhtml" target="_hplink">Hernandez worked as a stripper</a> at Dick's Cabaret in Phoenix for three years.

Brad Pitt

Yes, really! Pitt was allegedly part of a male dance group called "Dancing Bares" at the University of Missouri.

Joey Lawrence

The former "Blossom" star will snap on the bowtie as part of the increasingly celebrity-studded Chippendales in Las Vegas, according to <a href="http://www.tmz.com/2012/05/16/joey-lawrence-stripper-chippendales/" target="_hplink">this report in TMZ</a>. Whoa!