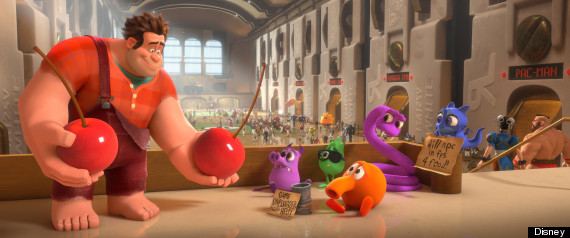 Disney acaba de lanzar el trailer de su nueva película 'Wreck-It-Ralph', que bien podría ser 'Toy Story' con videojuegos... Imagina un mundo en donde los personajes de tus juegos de video favorito en verdad vivieran, y los "malos" como Bowser de 'Mario Bros.', los fantasmitas de 'Pac-Man' o el Dr. Robotnik de 'Sonic the Hedgehog' se juntaran para tener grupos de apoyo por tener que hacer tantas fechorías...
'Wreck-It Ralph', dirigida por el ganador del Emmy Rich Moore (que ha trabajado en 'The Simpsons' y 'Futurama') sigue a este personaje titular, con la voz del talentoso actor John C. Reilly ('Stepbrothers', 'Chicago', 'Talladege Nights: The Ballad of Ricky Bobby' y muchas más).
Él es un villano que se la pasa destrozando cosas en el videjuego de Fix-it Felix (con la voz de Jack McBrayer, del programa '30 Rock'). Pero ya está cansado de hacerle la vida imposible al bonachón del juego y está convencido de que no tiene por qué ser un villano y que tiene todo para convertirse en un héroe.
Cansado, decide un día tomar las riendas de su vida y retirarse de su videojuego, para buscar entre el mundo de otros videjuegos su propio camino...
En su travesía se topa con otros interesantes personajes, como la Sargento Calhoun (con la voz de Jane Lynch, de 'Glee') y una niña traviesa llamada Vanellope von Schweetz (con la voz de la comediante Sarah Silverman), quien sin duda le hará ver de las suyas.
El corto de 'Wreck-It Ralph' sin duda es adorable y te lo recomendamos muchísimo, sobre todo si eres o fuiste de chico fanático de los videjuegos. Seguramente será otro éxito más para la casa Disney.
La película se estrenará el 2 de noviembre en versiones 2D y 3D.
FOTOS DE LA CINTA:
PHOTO GALLERY
BEFORE YOU GO
Wreck-It Ralph
PHOTO GALLERY
Wreck-It Ralph