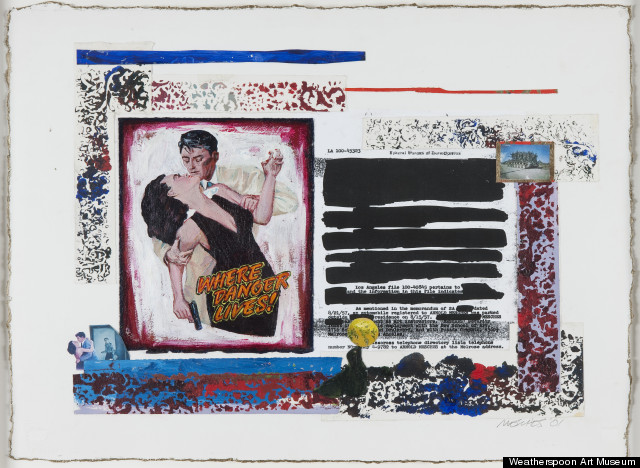 Arnold Mesches, "The FBI Files 16," 2001; mixed media collage on paper, Weatherspoon Art Museum, The University of North Carolina at Greensboro, Gift of Jill Ciment, 2010.
Ever feel like someone is watching you? These ten artists sure did. From Picasso to O'Keeffe, artists over the years have had their own kind of paparazzi following in the form of very curious and slightly paranoid FBI agents.
Like the infamous Hollywood Ten, members of the artist community have experienced some trying relations with agents of the Federal Bureau of Investigation over the years, having at times been accused of subversive activities and far left-leaning prerogatives. We've put together a slideshow of ten artists who grappled with the prying eye of G-men at some time or another. Check it out below and tell us what you think of these wily artists and their relationship with the FBI.
10 Artists with FBI Files
Pablo Picasso was born in Spain, lived most of his life in France, and never actually visited the United States, but that didn't stop the FBI from gathering a particularly thick dossier on the famed cubist painter. The Feds kept track of the artist for 25 years, monitoring what he wrote, said and painted. Labeled as a "Security Matter -- C" (for Communist) and "Subversive," it all amounted to 187 pages, most of which we imagine was filled with very incorrect interpretations of "Guernica".

Of course Andy Warhol was being watched by the FBI. His film "Lonesome Cowboys" sparked some FBI concern and agents actually went to the shooting location to scope out the hippy scene. With access to a sneak peak, the men ended up writing a rather scathing review of the film, for FBI eyes only, which somehow amounted to 75 pages. Stanley Kaufman would have been so proud. If you're really interested, you can buy the whole thing now on a CD-ROM on Amazon.

Milton Rogovin, the photographer famous for documenting the lives of the impoverished and working class of America, experienced the other side of the lens when he was under FBI surveillance. From the 1940s to the 1970s, the government collected over 600 pages of information on the artist, who they suspected of possessing a "strong adherence to Marxist-Leninist principles," according to a leaked FBI memo. The son of Russian-born parents was even hauled into the House of Representatives to testify before the Committee on Un-American Activities (yeah, that really happened).

This mobile-making artist was known to pal around with avant-garde greats like Joan Miro and Marcel Duchamp, and his bright and playful sculptures attracted many a fan in the 1930s. Including the G-men apparently. The artist supposedly had a file sitting right next Georgia O'Keefe, suspected of being none other than a left-leaning Communist. He had a tumultuous relationship with the government throughout his life, as he was rejected from the marines but then posthumously awarded the Presidential Medal of Honor. However, his family rejected the honor as a statement in support of Vietnam War draft resisters.

Some people thought it was post-1960s paranoia, but John Lennon's fears that the government was watching him turned out to be true. As his partner, collaborator, and bedfellow, Yoko was also under the keen eye of the US of A. Ono told ABC News: "I think that the world really loved the Beatles for being charming and sweet. But some people did resent the fact that they were no more the sweet, nice, charming boys." Learn more by watching "The U.S. Vs. John Lennon" or read Jon Wiener's book, "Gimme Some Truth: The John Lennon FBI Files."

Arnold Mesches knew he was being followed by the FBI. For 27 years they monitored his political leanings and social acitivies, questioned his friends and family, and even attempted to recruit one of his lovers as an informant. Altogether they compiled a whopping 760-page dossier on the Bronx-born visual artist. So what did Mesches do? He waited until the Freedom of Information Act opened up the files to the public and he turned them into art. Consisting of several collages and large-scale paintings, "The FBI Files" celebrates what Mesches considers the aesthetic beauty of the boldly typed compilation.

In 1946, Georgia O'Keeffe took part in a show called "Advancing American Art," put on by the State Department's newly formed Office of International Information and Cultural Affairs. Seventy-nine paintings by American artists were bought by the government to assert some degree of global US soft power through cultural endeavors. But after a number of complaints from statesmen and senators, President Truman spoke up to denounce the paintings and the tax dollars money spent on them. So the the show was recalled and the paintings were consigned and sold for $5,544 in total. O'Keeffe's painting was sold for $50. (Ed note: What a steal!) Needless to say, O'Keeffe and her modern art friends earned themselves a file after that.

No, the FBI did not think that Thomas Kinkade was a Communist; they thought he was fraudulently inducing investors to open galleries. At least six former Kinkade Signature Gallery owners were involved in the case, and all a part of the bucolic painter's cushy little file.

Was Jackson Pollock a tool in America's run to win the Cold war? Allegedly, Pollock's abstract expressionist work was used by the FBI's counterpart the CIA in the 1950s and 1960s to compete with the growing popularity of Socialist Realism in the east. It was basically an attempt to win the hearts of Communists everywhere by showing them that American art was free of capitalist influence and right-wing constraints. If only all global conflicts were resolved through heated debates over whose art was better.

Hasan Elahi is an artist and Rutgers professor whose life took a turn when he was stopped at the Detroit Airport on his way back from the Netherlands. After a series of interrogations and lie detector tests, Elahi was freed, but local FBI agents reportedly informed him that he should let them know when he'd be flying again. So he got a little proactive. He began photographing nearly every moment of his day and posting them to his website, Tracking Transience, creating a virtual alibi for himself as well as a pretty bold sousveillance art project. Check him out on the Colbert Report! Professor, we like your style.
Correction: We spelled Georgia O'Keeffe's last name "O'Keefe" throughout the previous entry. We regret the error, and promise to consume more coffee to keep our eyes sharp next time.