Father's Day is only a week away, believe it or not. While we were looking for great gift ideas, we stumbled upon a bunch of freebies designed just for dear old Dad. From pop labels (get it?) to cupcake toppers, check out these free printables that are guaranteed to make him smile. They're just a click away!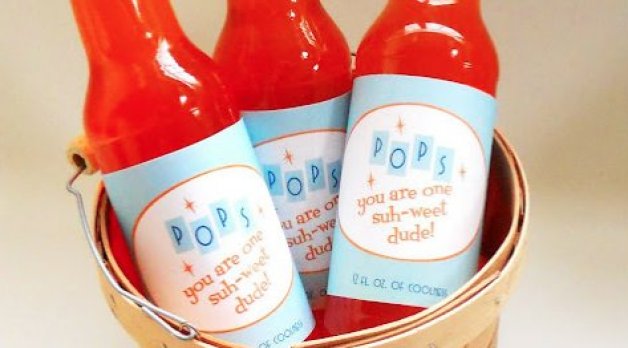 Photo by Delightfully Noted
Have something to say? Be sure to check out Stylelist Home on Twitter, Facebook and Pinterest.
12 Father's Day Printables
Sometimes less is more, especially with dad. Which is why the first printable on our roundup comes from Paper & Stitch who offers these simple and beautiful free tags. Photo by Paper & Stitch Blog

Blogger Lauren McKinsey has an eye for cute designs that are suitable for younger children. These printable kisses, for example, are bright, cheery and all around colorful. Photo by Lauren McKinsey

If your pops also happens to be your personal superhero, then these printables are just what you're looking for. So head on over to Lauren McKinsey's site for the freebies. Photo by Lauren McKinsey

Here's a printable set that will keep your decor consistent throughout the house, from a festive bunting to cupcake toppers. Photo by Sweet Rose Studio

These bottle labels are sure to impress dad and any house guests you might have! Photo from Delightfully Noted.

This drink stirrer is sure to make dad laugh and the note paper is the perfect touch to breakfast in bed! Photo from Living Lo Curto.

Yum! Dad will love this homemade BBQ with it's own label! Plus the greeting card is too cute. Photo from Evie S.

These gift tags are great for the sports-loving pop! Photo from Bird's Party.

These cute cut-outs are the perfect way to tell dad he is #1! Photo from Catch My Party.

This cupcake (or waffle!) topper is sure to make dad smile! Plus it makes all treats look even sweeter. Photo from Living Lo Curto.

These tie gift tags are perfect for addressing dad's present! Photo from Delightful Distractions.

These "best pop ever" tags are perfect for dressing upsoda, popcorn and candy. Photo from Nothing But Country.