 Whether it's the fresh-faced Kansas girl on the yellow brick road to Oz or the throaty, triumphant diva who brought a sold-out Carnegie crowd to its feet, Judy Garland represents many things to many people.
But to multiple generations of gay men in particular, Garland was more than just the consummate stage and screen legend. Her girl-next-door image, sadly, was marred by much-publicized, off-screen struggles that not only grounded many of her performances with a heartbreaking authenticity, but made her at times seem almost superhuman in her resilience.
"She's kind of like the ultimate comeback kid," notes New York-based actor, writer and performer Justin Sayre. "I think what's most unique about Judy is that she really communicated, in real terms, the depth of human feeling. For many gay people…we kind of grow up in a world where we're not allowed to go there a lot of the time."
In honor of Garland, who would have turned 90 years old on June 10, Sayre will once again host "Night of a Thousand Judys," featuring musical numbers, skits and other tributes comprising many of the star's varied incarnations from throughout her storied career. Directed by Ben Rimalower ("Project: Lohan" and "Leslie Kritzer Is Patti LuPone at Les Mouches"), the June 18 show will bring together approximately 25 celebrated New York performers, including Andrea McArdle (Broadway's original "Annie"), singer-songwriter Nellie McKay and Village Voice columnist Michael Musto -- the common denominator among them being, of course, a passion for all things Judy.

View a poster for 'Night of a Thousand Judys,' then scroll down to keep reading: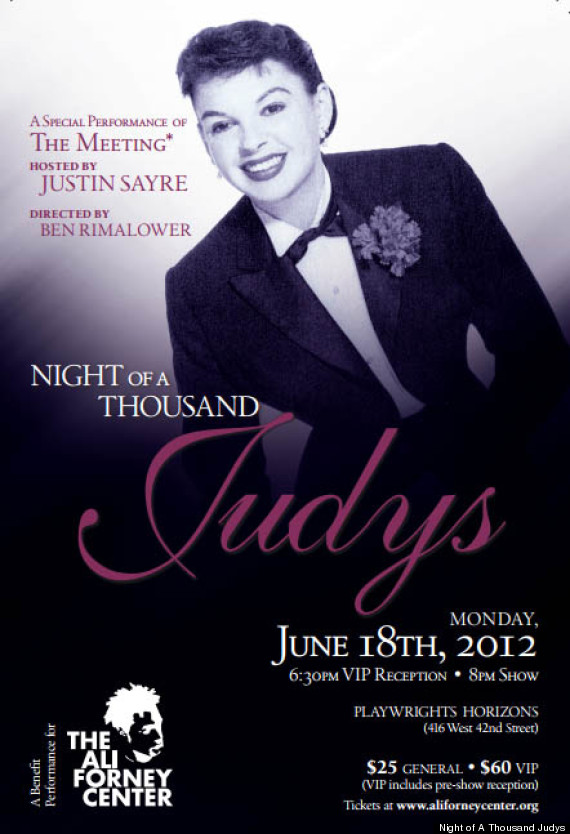 Now in its second year, "Night of a Thousand Judys," which is a special presentation of Sayre's variety show "The Meeting" and timed to coincide with Gay Pride month, also has a beneficent aim, with proceeds benefiting the Ali Forney Center, the nation's largest organization dedicated to homeless lesbian, gay, bisexual and transgender (LGBT) youth in New York. According to Sayre, it's a particularly appropriate cause given the star's own gravitas.
"She was someone who was so much about giving to an audience," Sayre explains. "So much of her career and her life was spent giving of herself, giving of her enormous talent to the people who loved her. In a way, we're celebrating that spirit."
Still, the performers themselves are tight-lipped about audiences can expect from the evening, which last year included nods to Garland signatures like 1944's "Meet Me in St. Louis" and 1954's "A Star is Born," among others. All McKay will reveal about her number is that it will "contain a sparkle or a sequin or two," though she takes time to cite Garland's "wonderful transparent quality" as inspiring her own work: "If she was saying one thing, but thinking another, you could always tell."
One thing the show won't contain is the fading, drug-addled Garland of later years (like that portrayed by Tony-nominated actress Tracie Bennett in Broadway's "End of the Rainbow"). "We don't talk about that stuff," notes Rimalower, himself a Garland enthusiast. "Our goal is to celebrate this amazing woman. We don't look at her career through any particular lens, other than one of admiration and love."
Interestingly, "Night of a Thousand Judys" arrives at a time when Garland's relevance to the gay community has been called into question. A much-debated New York Times article, "The Road Gets Rougher for Judy's Faithful," referred to "Judyism," i.e. the gay admiration of Garland, as "little more than a vague cultural memory," with one 30-something source stating that her legacy had since been surpassed by the likes of Lindsay Lohan and Britney Spears, among other troubled stars.
Not so, say both Rimalower and Sayre.
"Judy may not be the go-to now or in another 20 years for gay icons, but I'm sure there will always be a strong enclave of people who will always adore her," Sayre said. Adds Rimalower: "There'll always be that famous struggle, and certainly as gay men we can relate to the struggle. But on the other hand, it's just thrilling to watch a great performance especially if it's an escape. What Judy brought to it was humility and humanity -- you were always right there with her, she wasn't untouchable."

"Night of a Thousand Judys" plays New York's Playwrights Horizons on June 18. For more information, click here.

Check out 20 of Judy Garland's most legendary performances below:
Judy Garland's Greatest Moments
It's hard to imagine now, but "Over The Rainbow" was almost cut from "The Wizard of Oz" because MGM officials felt it slowed down the pace of the movie. In addition, Shirley Temple was the original choice to play Dorothy, but 20th Century Fox refused to lend her to MGM.

Judy starred opposite Mickey Rooney in nine films, including "Love Finds Andy Hardy." "Words and Music" was their final picture together.

The 1942 movie "For Me And My Gal" was Gene Kelly's screen debut. Here, Judy sings the title song from the movie.

Ginger Rogers introduced this Gershwin standard in 1930's "Girl Crazy," while Judy sang it in the film version of the musical 13 years later.

Director Vincente Minnelli helmed "Meet Me In St. Louis," which Garland often cited as one of her favorite films she worked on. She and Minnelli married in 1945.

Judy introduced this Christmas classic in 1944's "Meet Me In St. Louis."

Garland was pregnant with daughter Liza Minnelli at the time the film "Till The Clouds Roll By" was produced, and hence appears in only two short numbers, including this one. Creative steps were taken to hide her blossoming figure.

This sequence from "The Pirate" was reportedly cut by exhibitors in Memphis and other southern U.S. cities because it included The Nicholas Brothers, African-American performers.

This song, from "The Harvey Girls," took home the Academy Award for Best Original Song in 1946.

"Summer Stock" was Garland's last movie with MGM, and while she was plagued with personal problems and had fluctuating weight during filming, she shines brighter than ever with this amazing number.

"A Star Is Born" brought Judy an Oscar nomination and introduced this incredible song to her concert repertoire.

Interestingly, Garland only performed her signature song twice during her many TV appearances, which spanned 14 years. Rare footage from her first TV Special, "Ford Star Jubilee," show her performing the number dressed in the tramp costume made famous in her film "Easter Parade" with Fred Astaire.

Two gay icons, one legendary TV performance.

Judy became one of the few female singers to attempt the song on her TV show in 1963.

This stellar performance -- among others seen on "The Judy Garland Show"-- made it clear that daughter Liza Minnelli was poised to follow in her legendary mother's footsteps.

Though she performed this Frank Loesser standard to perfection on her TV series, Garland was actually married five times in real life.

Judy made this "Oliver" ballad her own during a moving performance on "The Judy Garland Show."

Judy paid tribute to the late Cole Porter with a spirited medley of the composter's music at the 1965 Academy Awards.