Kate Middleton Repeats Old Favorites At Royal Cousins' Wedding (PHOTOS)
Don't let those spiffy new Alexander McQueen dresses fool you: Kate Middleton still loves shopping her closet.
The duchess whipped up another repeat ensemble on Saturday, combining some old favorites for a brand new look. The occasion was the wedding of Emily McCorquodale and James Hutt, a "royal wedding" of sorts: the bride is the eldest daughter of Lady Sarah McCorquodale, Princess Diana's sister, making her William and Harry's first cousin. (The boys were also in attendance.)
For the family affair, Kate chose a rather traditional, covered-up look. She revisited her lavender Jenny Packham dress, last seen on her California Royal Tour last summer, and paired it with the delicate bronze pillbox hat first seen at last year's Epsom Derby. Because this was a fancy family wedding, Catherine dressed it all up with a gray Katherine Hooker coat, the same one she wore on Garter Day in 2011.
On her ears were her supposedly "fake" diamond and pearl earrings, worn at last week's Diamond Jubilee service. On her feet were those trusty L.K. Bennett nude pumps. Seriously, does she own any other shoes?
With all the mixing and matching, how did Kate's outfit turn out? See her latest outfit and the each item's original outing below.
PHOTOS: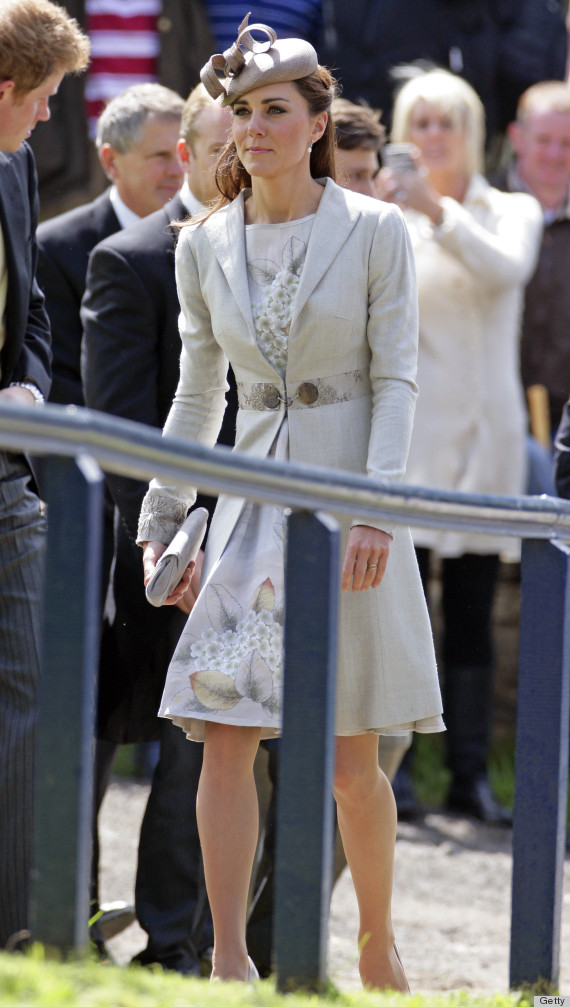 Catherine Re-Wears Old Favorites