Best Weekend Ever: What HuffPost Women Readers Did June 8th-10th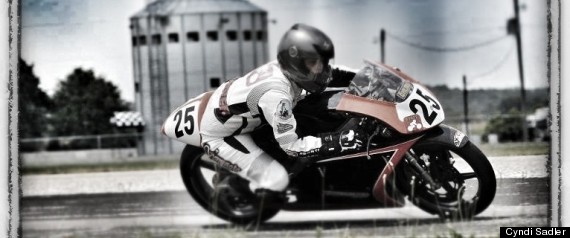 With the summer well underway, many of our readers took full advantage of the sunshine this weekend. Between riding horses, participating in triathlons and trying out kayaking, you were anything but sedentary. Whether you enjoyed the outdoors in far away places like Japan and Ireland or took time to relax at a park closer to home, you had the entire HuffPost Women team motivated to make our own weekends more like yours.
In case you forgot, the premise here is that as much as we look forward to the weekend (even when it's only Monday), it's also fun to look back on the amazing couple of days you just had and appreciate that time.
Check out the photos below, and don't forget to take a snapshot of your favorite moment next weekend and send it to women@huffingtonpost.com. We'll feature it in next week's Best Weekend Ever slideshow.
LOOK: HuffPost Women Readers' Best Weekend Ever June 8th-10th

Loading Slideshow
Gabriela

Best way to spend the weekend - family

Jessica

Went to the Giant's Causeway in Ireland.

Wolf

Foto from Germany

Sarah

My older sister Jessie and I traveled from Springfield, Illinois to Cambridge, Massachusetts to see our younger sister graduate from MIT. We are blessed to have such a little genius in our family!

Alejandra

Alejandra Quintero Rendón from Colombia with my boyfriend Christian and my dog Nikky.

Erica

I created my own mobile website this weekend <a href="http://Dedicateddreamsenterprises.com" target="_hplink">Dedicateddreamsenterprises.com</a>

Patrice

Poetry club night!

Stephanie

I competed in a triathlon and placed third in my age group! 30-34:) I had a fun morning and was proud of my results!!

Sherrill

Enjoying hiking adventures with good women friends! This one a "Splash Hike" @ 18-Mile Creek in Hamburg, NY (a Southtown of Buffalo, NY)

Bethany

Bethany W. in Puerto Rico

Maria

Meditated on bondi beach Sydney Australia

Paige

Me and my boyfriend celebrated our anniversary by being big kids and going to a park and flying a kite at White Rock Lake in Dallas. :)

Nichole

Played big Jenga!

Bonnie

...I went to a place called Cats Cafe in Okazaki, Japan, and ate a delicious caramel parfait!

Ash

I attended little Ash's very first birthday! He absolutely loved his birthday cake as you can see.

Mary Kathryn

We did something wonderful!!!....We're in Caen, France!......Love the little narrow walkways!!

Laura & husband

My husband and I at the Dave Matthews Concert Saturday, June 9, 2012 Saratoga Performing Arts Center Saratoga Springs, NY

Laura, Katie, Kelsea and Kara

Purgatory Road Race, Sutton, MA with my three daughters-Katie(20), Kelsea(18), Kara(15). It was hot, hilly & hard!

Sherrise

Spent my Sunday morning mountain biking in NYC bike trails...this city has everything!

Natalie

Yes I did something so fun and beautiful had to share - took photos of my beautiful city at night at vivid Sydney Natalie <a href="http://Eatreadloveaustralia.blogspot.com" target="_hplink">Eatreadloveaustralia.blogspot.com</a>

Libby

Divemastered a class for new open water level scuba students, Beaver Lake, Arkansas.

Ashley

I took 'BuckShot' for a ride in the summer sun!

Janet

We flew to our cottage for the first time this year.

Helga & Mike Foley

My girlfriend Helga with WWE hardcore legend Mick Foley. A big todo for her!

Danielle

This weekend, I canoed at Kentucky's Jenny Wiley State Park.

Jackie

I completed the Tough Mudder in Colorado on Saturday. 12 miles and 25 obstacles. BIG fun but so hard!

Rachel

We went kayaking on the Allegheny River in Pittsburgh for a friend's bachelorette party!

Laila

The best thing that has happened to me this year; graduation! .

Cyndi

I'm Cyndi, I ride a Honda 125 on race tracks with SportBike Track Time. By all means, I am not fast but it is a lot of fun!!

Tisa

Hi there!I went on my first ever biker breakfast run with my boyfriend in the Valley of a 1000 Hills, South Africa.

Erica

I went kayaking for the first time with my favorite partner in crime. Murrells Inlet, SC

Julie

I volunteered in a community garden called Project Eden. It is under the auspices of the NYC Parks Department Green Thumb program.

Erika

This weekend my husband and I participated in the Ride to Conquer Cancer benefitting Princess Margaret Hospital in Toronto. It was challenging, but rewarding and tons of fun!

Christy

Christy Cook (on the right) and I were competitors against each other on the 13th season of CBS's "The Amazing Race". Now we're great friends and hung out in NYC together this weekend!

Zach

Hanging out with my cousin Zach!

Kelsey and Katie

This weekend my sister, Katie, and I walked in the 9th annual 35 mile Long Island 2 Day on Long Island, NY. The walk raises funds to fight breast cancer on Long Island by supporting research and patient support. This was our 3rd year participating as "Team BREASTWISER," this walk's for you!

Zane and Caitlin

Throwing rocks in Cornet Creek (Telluride, CO) with my son, Zane.

Carol's Daughters

My teenaged daughters with Betty Boop. We were on Nola for the weekend. It was a total blast!!!

Maria

It wasn't any fun having my Mom in the hospital this weekend but capturing this tender moment between my parents was priceless. They'll celebrate their 64th Anniversary this Saturday and I hope to have a more joyful picture to share.

Sharon

Went fishing with my two kids. Didn't catch anything that didn't look like a minnow.

Tyler

Went to a 1920s themed wedding, overlooking the vineyards in Champagne, France!

Beth

Last weekend, I made Australian food with my kids for my blog Worldly Rise (<a href="http://www.worldlyrise.blogspot.com" target="_hplink">www.worldlyrise.blogspot.com</a>). Ok, it's always mostly me, but they always help bake the bread, mostly on the Little Red Hen premise (you can't eat the meal unless you help make it)

Michelle and Mary

Saturday at the Belmont Stakes!