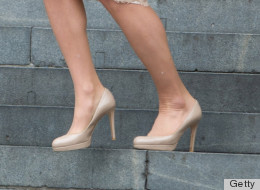 Unfortunately for us, we've never gotten to meet Kate Middleton and ask her our most burning questions. (How does she keep her hair so shiny? What's the queen like? Does Prince Phillip really have such a potty-mouth?)
But we already know the answer to the question "What are your favorite shoes?" Her nude L.K Bennett pumps, obviously. Last week the Daily Mail stated aloud what we've all been thinking: "Does Kate only own ONE pair of shoes?" This week People StyleWatch included the royal in its "I Really Love My..." roundup. On last summer's Royal Tour, Kate wore the nude shoes a whopping nine times.
Because, tired as we are of those basic heels, Catherine is just like us. We've also got our favorite footwear, the pairs we'll never stop wearing no matter how beat up they get. We asked our editors: what are your L. K. Bennett pumps, the shoes you just can't quit?
Check out our favorites... and send us your own!
Kate's Got L.K. Bennett, We've Got...
Rebecca, HuffPost Style associate editor: "I picked up these furry leopard brogues at Galleries Lafayette during the annual sales when I was living in Paris. I chatted with the saleswoman, and she ended up giving me an extra discount (probably because she pitied my French accent...c´est la vie)."

Anya, Stylelist/Stylelist Home/HuffPost Style editor-in-chief: "These do not qualify as "favorite" in the comfort department, but I think they're pretty. They're by Fornarina and I bought them in my mid-20s, when things like comfort were not high on my list of priorities. Now I keep them under my desk to switch into, 'Working Girl' style."

Brie, Stylelist/Stylelist Home editor: "Here's a favorite: Calvin Klein simple black pumps. Gives the height of a hidden platform without the Kardashian effect. (Or so I think.)"

Shana, Stylelist Intern: "A month back, I fell completely in love with the perfect cream-colored cocktail dress, but I needed some jazzy shoes to spice it up a bit. I found these awesome and surprisingly comfortable suede heels in a store nearby, and ever since they've been my favorite pair. And to make the whole experience even better, I tried the dress on in the store and the 70-year-old male shop owner helped me pick these out to match."

Christina, Stylelist fashion editor: "Chanel. Sample Sale. There are pearls on the heels. 'Nuff said."

Ellie, HuffPost Style associate editor: "I bought these leather and suede wedges last year at Bloomingdale's because I thought they were pretty. Turns out they're also the most comfortable heels I've ever worn."

Jessica, HuffPost Style editor: "When I first bought these Durango boots I was totally worried they'd give off a cowgirl vibe, but now I love wearing them with black skinnies for a rocker girl vibe."

A potential wedding shoe designer for Kate Middleton shares her wedding insight.