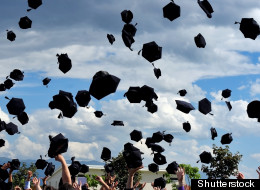 This graduation season, skip the typical check or gift card and give a present with more meaning.
Instill in your grad a sense of social responsibility by choosing gifts that support fair trade wages for artisans or donate part of the proceeds to needy communities.
For your recent high school grad who's planning on majoring in international business, snag some luggage tags that support women in Africa who want to start their own businesses. For the college grad going off to med school, buy a medicine kit that also provides one for a family in need.
Check out these and more gifts that give back in the slideshow below:
7 Graduation Gifts That Give Back
Give your graduate a sweet treat! These custom-baked and hand-iced cookies are made to order by Baking for Good, an online bakery that donates 15 percent of every purchase to a charity of your choice. Gluten free and vegan options available. What's sweeter than that?

These Global Girlfriend luggage tags, made out of recycled plastic bags, are perfect for your on-the-go graduate. Each are handmade by women in India, traded fairly and the proceeds from this purchase go toward helping women in Africa start their own businesses.

Purchase a medical kit for your graduate and Oxfam America Unwrapped will provide one for a family in need. The kit supplies a family with water purification tablets, basic first aid supplies and even disease prevention education. Graduate will receive a congratulations card notifying them they've helped a family in need.

The perfect storage solution for any graduate -- high school or college. Dorm rooms and first apartments are tight quarters, and this lightweight yet durable bin is perfect for clothes and books. It's collapsible, water resistant and has reinforced handles for those trips home on the weekend. Gifts That Give donate proceeds of this purchase to a charity of your choice.

This fair trade silk tie was handcrafted by women in Cambodia. Global Goods Partners supports these growing communities that often don't have any other source on income other than the products they sell. For your grad, this tie is the perfect accessory for that job interview or a night out on the town with friends.

For your socially responsible and fashion savvy graduate, the handmade products by Ineza are the perfect gift. The small business consists of a group of 25 women, all of whom are affected by AIDS. All proceeds benefit the women by supplying income, housing and money for AIDS research.

S'well stainless steel water bottles are perfect for any green graduate. These bottles are tough enough to survive any college student's lifestyle. The purchase of this reusable bottle supports WaterAid, a company that provides safe and clean water. Gifts That Give will also donate proceeds of this purchase to a charity of your choice.