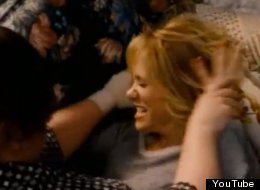 Jennifer Gonzalez, the Malibu High School teacher accused of slapping a student six times as she cited the movie "Bridesmaids," is being backed by school officials and will not be placed on administrative leave, TMZ reports.
The news comes after the NAACP urged the school to further investigate the incident.
"Where there's smoke, there's fire," NAACP Santa Monica Branch President Darrell Goode told CBS Los Angeles last week. "So we're pushing the district to do a full-blown administrative investigation."
According to TMZ, the school's "full-blown" investigation revealed Gonzalez only "pat" the student, and that she didn't mean to hurt her.
While the school's investigation may be closed, the Los Angeles County Sheriff's Department is reportedly still in the midst of its own criminal investigation.