Man Food: Father's Day Recipes That Aren't Just Steaks And Burgers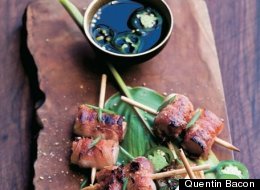 Dad, we feel for you. We know you love burgers, steaks, mashed potatoes and all the other things we always try to feed you for Father's Day. This year, we've decided to work a little harder. We dug deep into our recipe archives to come up with some manly menu ideas to get us all out of the Father's Day rut. On the menu this weekend: serious spice, indulgent seafood and a heavy hand with the bacon.
Sorry, salads -- we adore you, but you have no place here. We'll see you next week.
MAN FOOD: Father's Day Menu Ideas
To start, dunk some gilled bacon parcels into a spicy, savory ponzu sauce. Get the Bacon Wrapped Rice Cakes With Jalapeno Ponzu recipe

This salty, cheesy spread of Southern origin will become a staple, we promise. If your dad's not a bacon lover, these can easily be made vegetarian. Get the Pimento Cheese And Bacon Crostini recipe

One bonus of steaming oysters open on the grill: no shucking knife required. Get the Spicy Barbecued Oysters recipe

We think the pork chop is the unsung hero of grilling season. Done right, they can be just as juicy and satisfying as a steak. Get the Spice-Rubbed Grilled Pork Chops With Red Cabbage Slaw recipe

These bison short ribs are meltingly tender and pack in a ton of flavor. Dad can dig into these, even if he's watching his waistline. Get the Red Curry Bison Short Ribs With Baby Bok Choy recipe

What's that you said? Your dad doesn't eat meat? No problem. Once you slather these cheesy enchiladas in New Mexican red chile and beans, neither you nor he will miss it. Get the Cheese Enchiladas With Red Chile Sauce recipe

Nothing makes us feel more like cavemen than digging into a whole fish. Also, we're going to eat avocado butter on everything this summer. Get the Oven Roasted Bass With Avocado Butter recipe

Don't worry -- it's not actually dirt. It's a black olive puree that makes everything it touches turn into salty gold. Get the Dirty Potatoes recipe

Chomping into a whole ear of smoky, grilled corn, butter streaming down your chin -- we can't think of anything much more manly. Get the Grilled Corn recipe

These easy stuffed peppers have the added bonus of being another way to sneak cheese into your vegetable sides. Once you get the hang of this, you can substitute just about any cheese you can think of and also experiment with different kinds of peppers -- from mild and sweet to blow-your-face-off spicy. Get the Cheese-Stuffed Grilled Peppers recipe

Just the kind of sweet, spicy, frozen treat to help bring your Father's Day gluttony to a close. Oh, also there's beer in it. Get the Beer With Chile Granita recipe

It's hard to resist a s'more, especially when you don't have to stand over a fire and burn your fingers to get it. Get the S'More Pie recipe