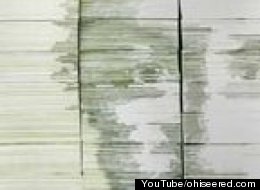 A Shanghai-based artist has created a pun-filled portrait of Facebook founder Mark Zuckerberg out of stacked books.
A time-lapse YouTube clip shows Hong Yi, also known as Red, building a tower of 36 books over the course of seven days that eventually resembles Zuckerberg's face.
Unfortunately, the tower of Zuckerberg stands for only a moment before collapsing.
While Red's projects usually portray famous Chinese icons, she chose to profile Zuckerberg in memory of a recent trip to the U.S., she explains in a recent blog entry.
Can't get enough impressive book art? Check out Guy Laramee's book sculptures or Carl Pappenheim's spineless classics.