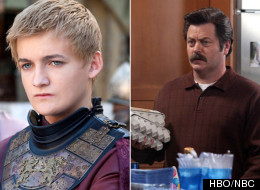 "Parks & Recreation" creator Mike Schur figured out a way to get the entire internet to forget about the underwhelming "Mad Men" finale Monday afternoon by kicking off the epic Twitter hashtag #ThronesAndRecreation, inviting fans to share ideas for a "Parks & Rec"-"Game Of Thrones" crossover season.
Schur, who goes by KenTremendous on Twitter, is an avowed "Thrones" fans who's written jokes about the HBO fantasy into "Parks" already. (Remember when Ben called Leslie 'Khaleesi'?)
After he tweeted, "I'm pretty sure the cast and writers would be up for a 100% cross-over season with Game of Thrones, if they were into it," "Parks" star Adam Scott said he was in and Aziz Ansari also got in on the fun. Soon enough, the hashtag took off with some hilarious suggestions for plot developments and premises from fans of both shows.
Check out some of our favorites below.