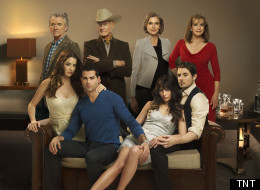 Summer is in full swing on the small screen, with a number of high-profile premieres and finales to look forward to this week.
Amy Sherman-Palladino makes her highly-anticipated return to TV on Monday with ABC Family's "Bunheads," another big-hearted, small town dramedy that stands to remind "Gilmore Girls" fans why they fell in love with her writing in the first place. (Read Mo Ryan's take on the new series here.)
Tuesday sees the debut of Encore's gripping new miniseries, "Thorne," which HuffPost TV previewed last week, and Wednesday welcomes Texas' most infamous family, the Ewings, back to primetime with the return of TNT's "Dallas."
Two USA shows premiere new seasons on Thursday, as "Suits" and "Burn Notice" return to spice up the summer cable slate. Sunday brings season finales of "The Killing," "The Big C" and "Girls," as well as the reappearance of "Falling Skies."
Check out our slideshow for more TV picks for the week.
What To Watch: June 11-17
(8 p.m. ET on Style) season premiere As they face the realities of motherhood and matrimony, Tia and Tamera lean heavily on each other to lighten the difficult moments with comedic insight and advice. After giving birth to her first child, Tia is figuring out how to balance being a successful actress and a successful mom. Tamera, as she approaches her one-year anniversary, is wondering about her new role as a working wife. With homes in Los Angeles and Napa Valley, where her husband's family also owns a vineyard, Tamera finds herself pulled between two different worlds, struggling to decide which she will ultimately call home.

(9 p.m. ET on ABC Family) series premiere Don't let the title put you off -- this witty, heartfelt dramedy from "Gilmore Girls" creator Amy Sherman-Palladino is as close a return to Stars Hollow as we're ever going to get. It has that signature "GG" rapid-fire banter, all too familiar music cues and a smart, sarcastic brunette at its center (this time played by Broadway star Sutton Foster). Did we mention it also stars Kelly Bishop? Foster plays Michelle, a Las Vegas showgirl who impulsively marries a man, moves to his sleepy coastal town, and takes an uneasy role at her new mother-in-law's dance school.

(10 p.m. ET on Syfy) Bo's efforts to help Trick find a stolen body uncover a lethal Lich -- and our heroine is put in a precarious position that helps open her eyes to the true extent of her powers.

(8 p.m. ET on The CW) It's Gay Pride weekend in South Beach and The Catalina has never been more fabulous. Eyal and the staff build a float to compete in a local parade, while hotel manager Stephanie becomes romantically involved with a guest.

(9 p.m. ET on Encore) original miniseries Part One of the eerie and atmospheric crime drama event, starring David Morrissey as the compelling Detective Inspector Tom Thorne, who possesses a gritty sensibility and an unhinged desire to discover killers. In the first installment, Thorne investigates a series of unusual attacks on young women. The first three victims are found dead, however the fourth victim -- Alison Willetts -- survived an excruciating attack and is lucky to be alive. The miniseries concludes on Wed., June 13 at 9 p.m. ET with "Thorne: Scaredy Cat," when Thorne is joined by Sandra Oh ("Grey's Anatomy") as Detective Sergeant Sarah McEvoy, who appears to be a tough, calm and capable cop to her male colleagues, but is simultaneously battling a serious drug addiction.

(11 p.m. ET on Oxygen) series premiere Starring Trapper Felides, a top New York City performance coach and musical director who gives his clients the blunt truth and tough love they need to succeed. The series will follow Felides as he mentors a group of performers as they prepare for their next career-changing audition or their big music industry break. In each episode viewers will get an inside look at Trapper's uncensored methods for success to turn good performers into great ones, and great ones into stars. Trapper is much more than just a vocal coach and career maker -- he's also a life coach, a brother, a mentor and a seasoned guide through the tough world of show business.

(9 p.m. ET on TNT) two-hour series premiere Larry Hagman, Patrick Duffy and Linda Gray reprise their famous characters as J.R., Bobby and Sue Ellen Ewing, returning to Southfork with secrets, schemes and betrayals. This time, they're joined by the next generation of Ewings, played by Josh Henderson and Jesse Metcalfe, who take ambition and deception to a new level as the future of Southfork is called into question.

(9.31 p.m. ET on ABC) new timeslot For the next two weeks, the talent contest moves to Wednesday nights, returning to 8 p.m. Thursdays on June 28. Kelly Clarkson, John Legend, Jennifer Nettles and Robin Thicke take the stage and perform party songs with their hand-picked Duet Partners. Tonight one amateur is eliminated, leaving six remaining in the competition.

(10 p.m. ET on MTV) season finale The two remaining crews, 8 Flavahz and Elektrolytes, battle it out for the coveted title.

(9 p.m. ET on USA) season premiere Season 6 of this summer favorite picks up after Fiona turned herself in on charges of terrorism to save Michael from an extreme case of blackmail. With Fiona in federal custody, Michael and his crew must band together to rescue their friend from a lifetime prison sentence.

(10 p.m. ET on USA) season premiere The future of brilliant, but not-technically-legal, associate Mike Ross hangs in the balance when a friend threatens to expose him. Legendary law partner Harvey Specter attempts to guard his secret from the firm's top suit Jessica Pearson while she faces even bigger problems when the other half of Pearson Hardman reemerges on the scene.

(11 p.m. ET on Lifetime) Presenting an honest, authentic and raw view of the shared issues affecting women today, each episode features de Cadenet having powerful and in-depth interviews with some of the world's most famous and influential women. This week's topic is "Living Deliberately," with guests Connie Britton, Mira Sorvino, Kelly Preston and Christina Applegate.

(9 p.m. ET on USA) season finale Kate digs deeper when a news station fires a lesbian couple for fraternizing in the workplace. Also, Kate must choose between Justin and Ben.

(9 p.m. ET on TLC) season premiere The show returns to its roots at New York's famous Kleinfeld Bridal salon. Part fashion show, part bridal story, part family therapy, the series uncovers the hurdles every staff member faces to make each bride completely satisfied on what may be the single most important day of her life. The new season brings a new batch of unique personalities. From demanding moms to picky fiancés, brides with unlimited budgets and an appearance from fashion-forward Olympic figure skater Johnny Weir, viewers will be exposed to nearly every aspect of dress shopping in preparation for the big day.

(10 p.m. ET on IFC) In each episode, host Scott Aukerman engages his guests with unfiltered and improvisational lines of questioning, punctuated by banter and beats provided by bandleader, one-man musical mastermind Reggie Watts, to reinvent the traditional celebrity interview. Packed with character cameos, filmic shorts, sketches and games set amongst an off-beat world, the show delivers thirty minutes of absurd laugh-loaded fun featuring some of the biggest names in comedy. This week's guest is "Parks and Recreation" star Amy Poehler.

(9 p.m. ET on Syfy) original telefilm With a name like that, how can you resist? In B-movie icon Roger Corman's latest, a hybrid creature -- half piranha and half anaconda -- attacks a movie crew on location near her nest when her egg is stolen. Now they must outrun and kill the deadly piranhaconda as well as stop the mad scientist who stole the egg -- before they all become dinner. Stars Michael Madsen and Rachel Hunter.

(9 p.m. ET on TNT) two-hour season premiere After last season's cliffhanger finale, Tom returns to the resistance, but his loyalty is called into question, while Pope takes command of a renegade faction within the 2nd Mass.

(9 p.m. ET on AMC) season finale Will the second season finale cause as much controversy as last year's did? Only time will tell. Sarah and Holder close the case. Richmond sets out on a bold new path. The Larsen family gains closure from an unsuspected source.

(9 p.m. ET on The Smithsonian Channel) series premiere This series showcases the history of the forensic tools we take for granted today. Each episode weaves together two criminal cases: a headline-grabbing modern murder investigation and the very first case where a forensic technique was invented and tested in court. Through the course of the hour, the cases reveal how the science evolved, often from a simple hunch into a sophisticated tool that revolutionized crime science.

(9 p.m. ET on Showtime) season finale Cruz pushes Jackie to the breaking point, then fires her. Followed by the season finales of "The Big C" and "The Borgias."

(10 p.m. ET on HBO) season finale It's been a divisive freshman season, but we're intrigued to see what Lena Dunham has in store for the finale. Hannah's on the hunt for a new roommate, and has a surprising confrontation with Adam, while Jessa throws a "mystery party."