 After two days of confusion about whether Beyoncé had actually named her daughter Blue Ivy (and not Ivy Blue), rapper-dad Jay-Z confirmed his baby girl's name , through song. And ever since, everyone from fans of the couple to baby name experts, have guessed at what inspired the unique moniker.
Blue is Jay-Z's favorite color, International Business Times reported. Pamela Satran, co-founder of Nameberry.com, said Blue is a trend in Hollywood -- it's "one of the new color names that's been most enthusiastically embraced by celebrities," she told The Huffington Post.
A new clue appeared on Beyoncé's Tumblr this week -- a passage from Rebecca Solnit's ""A Field Guide to Getting Lost." Bey posted the moody opening of the second chapter, "The Blue of Distance."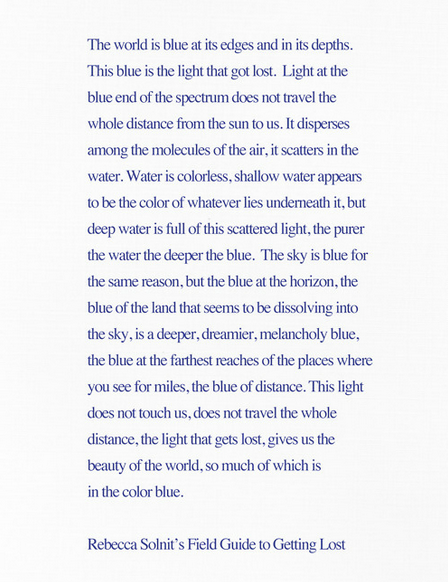 While the couple has yet to confirm whether Solnit's words were the inspiration for baby Blue Ivy's name, or just a nice find for parents of a baby named Blue, the sentiment is certainly preferable to a January Twitter trend suggesting that the name associated them with the satanism -- a theory that was later debunked.
Click through the gallery below to find out why other celebs chose their kids' names.