After two days of confusion about whether Beyoncé had actually named her daughter Blue Ivy (and not Ivy Blue), rapper-dad Jay-Z confirmed his baby girl's name , through song. And ever since, everyone from fans of the couple to baby name experts, have guessed at what inspired the unique moniker.
Blue is Jay-Z's favorite color, International Business Times reported. Pamela Satran, co-founder of Nameberry.com, said Blue is a trend in Hollywood -- it's "one of the new color names that's been most enthusiastically embraced by celebrities," she told The Huffington Post.
A new clue appeared on Beyoncé's Tumblr this week -- a passage from Rebecca Solnit's ""A Field Guide to Getting Lost." Bey posted the moody opening of the second chapter, "The Blue of Distance."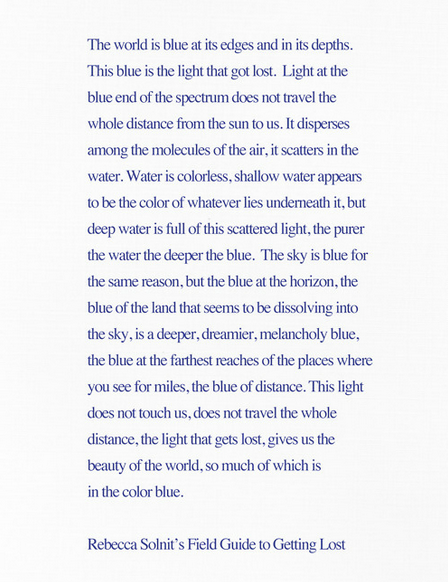 While the couple has yet to confirm whether Solnit's words were the inspiration for baby Blue Ivy's name, or just a nice find for parents of a baby named Blue, the sentiment is certainly preferable to a January Twitter trend suggesting that the name associated them with the satanism -- a theory that was later debunked.
Click through the gallery below to find out why other celebs chose their kids' names.
Loading Slideshow
Jessica Simpson: Maxwell Drew

After what seemed like the longest pregnancy ever, Jessica gave birth in May and named her daughter <a href="http://www.huffingtonpost.com/2012/05/01/jessica-simpson-baby-name_n_1468232.html" target="_hplink">Maxwell Drew</a> -- "Drew" is the singer's mother's maiden name.

Kate Hudson: Bingham (Bing) Hawn Bellamy

Hudon's fiance, singer, <a href="https://twitter.com/MattBellamy/statuses/91585241235460096" target="_hplink">Matthew Bellamy tweeted</a>, "For those wondering, Bingham is my mum's maiden name and Bing Russell was Kurt's dad," after the couple's son was born in July 2011.

Pink: Willow Sage Hart

After giving birth in June 2011, the singer <a href="http://www.hellomagazine.com/celebrities-news-in-pics/06-07-2011/56963/" target="_hplink">told Hello! magazine</a> that Willow is her favorite tree -- she grew up near one.

Mariah Carey: Monroe Cannon And Moroccan Scott

<a href="http://www.eonline.com/news/mariah_careys_baby_names_announced_are/240080" target="_hplink">E! reported</a> that Cannon proposed to Carey in "The Moroccan Room," of their apartment inspiring their boy's name. Scott is Nick's middle name and his grandmother's maiden name. Moroccan's twin sister, Monroe, was named after Marilyn Monroe.

Miranda Kerr: Flynn Christopher

The model <a href="http://www.dailytelegraph.com.au/lifestyle/sunday-magazine/mama-miranda-kerr/story-e6frf039-1226089878494" target="_hplink">told Australia's Daily Telegraph</a> that her son, born in January 2011, was partly named after her first boyfriend, Christopher, who died in a car accident when he was a teenager.

Penn Jillette: Moxie CrimeFighter

Magician Penn Jillette <a href="http://marquee.blogs.cnn.com/2011/08/17/moxie-crimefighter-celeb-baby-names-explained/" target="_hplink">explained to Piers Morgan</a> the logic behind his daughter's unusual name: Moxie is the brand of a beverage, and CrimeFighter was a suggestion from a staff member (inspired by a line in Penn's book). She was born in February, 2009.

Jennifer Lopez: Maximilian David And Emme Maribel

Lopez <a href="http://celebritybabies.people.com/2008/03/21/introducing-max-2/" target="_hplink">explained to People</a> in 2008 that her twins' middle names were inspired by family: David is her father, while Maribel was the name of ex-husband Marc Anthony's sister, who passed away.

Jessica Alba: Honor Marie

After giving birth in 2008, Alba told People that her friend suggested the name. "We were having a girl's night, and one of my friends said, 'If I ever had a girl -- but I'm not having any more kids -- I will name her Honor,'" she said. Marie is Alba's middle name.

Gwyneth Paltrow: Apple

In 2004, the actress <a href="http://www.nytimes.com/2006/04/16/fashion/sundaystyles/16NAMES.html?pagewanted=all" target="_hplink">told Oprah</a> that she chose her daughter's name because, "apples are so sweet, and they're wholesome, and it's biblical."