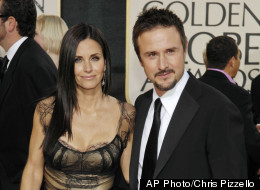 It's finally official.
Nearly two years after announcing their split, David Arquette and Courteney Cox are divorcing.
According to TMZ, Arquette filed divorce docs on Tuesday, which would have marked the pair's 13th wedding anniversary.
Arquette is reportedly seeking joint custody of their daughter, Coco Riley Arquette, who turns eight years old on Wednesday.
The couple, who married in June 1999, first announced their split in October 2010. At the time, they issued a joint statement that said: "The reason for this separation is to better understand ourselves and the qualities we need in a partner and for our marriage."
The pair have reportedly maintained a friendship post-split and even co-executive produce the TV comedy "Cougar Town," in which Cox stars.
While their split has been amicable, Cox and Arquette never expected their relationship to end this way; Cox told the Daily Mail in December 2009 that divorce wasn't "really an option".
They aren't the only couple to publicly swear off divorce. Here are six more -- and some who also split anyway.
"Divorce Is Not An Option"
After weeks of speculation that Jennifer Lopez and Marc Anthony were considering divorce, J.Lo spoke out against the rumors in an exclusive interview with In Touch magazine in January 2011. "Every time I'm not wearing my ring, people think I'm getting divorced," Lopez told the magazine "Divorce is not -- and was never -- an option." But in July 2011, the pair announced that they had made the "difficult decision" to end their seven-year marriage.

In April 2011, Eva Longoria opened up to Piers Morgan about the end of her three-year marriage to Tony Parker. "Marriage in my family is really a sacred sacrament. It wasn't something we did frivolously," she said. "And our mantra was: Divorce is not an option. We always would kid about that: 'I'll kill him before I divorce him!' The mantra didn't stick; the "Desperate Housewives" star's divorce from Parker was finalized in January 2011.

In November 2008, Jennie Garth opened up to OK! magazine about her marriage to Peter Facinelli. "I'm not interested in taking the easy way out," Garth said. "Divorce is not an option for us. I want to be with my family." But in March 2012, the pair released a joint statement announcing the end of their 11-year marriage.

Despite tabloid reports that Khloe Kardashian-Odom and husband Lamar Odom are divorce bound, the reality star seems to determined to stave off a split. Earlier this month, Kardashian-Odom told People magazine that "divorce is not an option," adding that she and her husband would be putting their E! show, "Khloe & Lamar," on hold so that they could "prioritize a little."

Despite the split speculation surrounding Will Smith and Jada Pinkett-Smith, in May 2008 the actor told Ellen Degeneres that he and Pinkett-Smith were committed to avoiding divorce. "What I found is divorce just can't be an option," Smith explained. "It's really that simple. And I think that's the problem with L.A. -- there are so many options. So a huge part of the success for [Jada] and I is that we just removed the other options." So far, so good. The couple celebrated their 14th wedding anniversary in December and earlier this month, Smith denied the split rumors in an interview with "Access Hollywood."