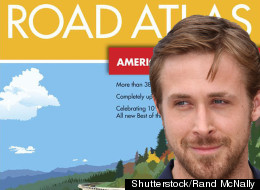 A "Guinness World Records" movie is in the works, according to The Guardian. No details are yet forthcoming, but how hard can it be to turn a reference book into a heartwarming movie for all the family?

Not hard at all, that's how hard. And so, not only have I written up the perfect pitch for this movie, but I've also adapted eight other classic reference books into solid gold Hollywood pitches.

Brothers Warner, Mr Paramount, I await your call.

Movies based on reference books
The Pitch: Spellbound meets Se7en Tagline: "Choose your words carefully." The story: In this gruesome thriller, female French detective Roget (played by Bérénice Bejo from The Artist) goes on holiday to New York, where she encounters a series of gruesome murders being carried out on copy editors. She soon discovers that the methods follow precisely the order of entries under the word "kill" in the Thesaurus. After several false alarms, the killer is revealed to be near-identical twin librarians (both played by Ryan Gosling) who lost their jobs at a newspaper for confusing "antonym" with "synonym", and have been wreaking revenge ever since. The gripping denouement takes place in a factory that makes magnetic poetry.

The Pitch: Back To The Future meets Midnight in Paris Tagline: "You don't know what you don't know." The Story: In this heartwarming slice of family-friendly fun, a group of kids (the ones from Super 8 will do fine) break into what they think is an abandoned warehouse, where they find an inventor (played by Ryan Gosling), his weird machine and an Encyclopaedia Britannica. He shows them the books, in which half of the pages are empty, and the others are fading fast. Mankind's achievements are unwriting themselves - only by traveling through time with the inventor to help history's scientists and philosophers can they fix human knowledge back in place. Co-starring Simon Cowell as Albert Einstein. Image by Alamy

The Pitch: Jackass meets E.R. Tagline: "There's no cure for stupidity." The Story: In this hilarious documentary-style movie, Johnny Knoxville and Wee Man are infected with every disease in existence, in strictly alphabetical order. Can they find the right specialists in time to make it through the entire book unscathed? Special guests: Dr Phil and Ryan Gosling.

The Pitch: Little Miss Sunshine meets The Road Tagline: "It's not a record unless someone's there to see it." The Story: In this tear-jerking father-son comedy, Jim Guinness (Will Ferrell) once held the world record for most hockey goals scored in a game - except he held it for two weeks, and never ended up in the book. Thirty years later, after the tragic death of his wife (Audrey Tautou), he goes on a bonding trip with his son (Ryan Gosling, with the aid of CGI) to try and fulfill his life's ambition and get into the "Guinness World Records" book. They meet genuine record holders around the world, who give them advice, but in the end, every atttempt is met with failure. However, the two bond and realize that human achievement is about more than breaking records. In an unexpected twist at the end, the "Guinness World Records" book calls to tell them they've met more record holders than anyone before - and gives them a special entry in the book.

The Pitch: Fast and Furious meets Wacky Races Tagline: "No roads lead to Rome." The Story: In this knockabout bromance, a group of spoilt millionaires with too much time on their hands (Jack Black, Al Pacino, Judi Dench, Ryan Gosling) decide to race from Los Angeles to Rome, GA - the only rule being that they can't drive on any real roads to get there. Hilarity and PG-13 rated chaos ensues.

The Pitch: He's Just Not That Into You meets My Fair Lady The Tagline: "English doesn't have to be plain." The Story: In this adorable-yet-irresistible chick-flick, a mix up at a printer leads to a rogue copy of "The Elements of Style" going out with the cover of a dating advice book. This leads our heroine, an inexplicably wealthy single girl from California (Elizabeth Olsen) to omit needless words, insert parenthetic expressions between commas, and use the active voice in an attempt to get a man. Hilarity and Ryan Gosling ensue.

The Pitch: Finding Nemo meets Dumbo Tagline: "You'll believe a bird can fly." The Story: In this heartwarming Pixar tale, a penguin (voiced by T.I. in his first animation role) gets lost on its way to Boulder Zoo, and ends up hanging with the natural fauna of Colorado. Told that he's a bird from Antarctica, he decides to fly home. The only problem is, how does a penguin learn to fly? Co-starring Courtney Love, Chuck Norris, Dick Cheney and Ryan Gosling.

The Pitch: Shakespeare in Love meets The Piano Tagline: "You get my meaning?" The Story: In this historical romance set in 18th-century Florence, and loosely based on a true story, a sharp-tongued lady at court called Signora Merriam (Jessica Simpson) loves to speak plainly, but she finds it all but impossible in an age when words had no meanings. She falls in love with deaf-mute Webster (Ryan Gosling) whose simple gestures make her realize the true meaning of communication. Together, they write the first-ever dictionary, and are acclaimed far and wide until they are brutally murdered by a group of rogue Scrabble players.

The Pitch: The Da Vinci Code meets Home Improvement The Tagline: "Always read the instructions carefully." The Story: By misreading one of the instructions on putting together an IKEA footstool, Ryan Gosling (played by Ryan Gosling) accidentally creates a 3-dimensional map of Stockholm. His wife (Neil Patrick Harris) realizes that it contains a hidden code, and the pair begin a chase across Sweden to uncover the secret resting place of Allen Key - a mystical figure who, it is said, could unlock everything.

The Pitch: Stranger Than Fiction meets Draw Something Tagline: "How can 6 billion people be wrong?" The Story: A new experiment in moviemaking in which the plot changes constantly, as the script is rewritten live by people on the internet. Co-starring Lady Gaga, Ryan Gosling and an infinite number of cats.