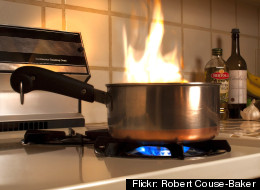 Are you often disappointed with your cooking? Do you follow all your recipes to a tee and still don't quite get it right? If you've said yes to these questions, you may want to read on (and don't worry, this isn't the intro to a cheesy infomercial). Cooking is an art; and while it allows for a lot of creativity, there are still some rules that should be followed if you want to achieve the best results.
The most common cooking mistakes are a result of impatient cooks, while others are due to a lack of knowledge. But overall, these mistakes often require just a little tweak to your technique. Click through the slideshow below to see what you're doing wrong and change your ways to become a better cook.
The difference between a boil and a simmer may seem slight (a simmer means bubbles come to the surface every second or two, a boil means the water is rapidly bubbling) but it makes all the difference when cooking. Boiling instead of simmering can result in a tough, dry or cloudy final product -- especially when dealing with meat.

Overcrowding the pan is a common offense among home cooks. How many times have you just wanted to fit a few more pieces of chicken to a pan rather than cooking in batches? Well, you end up with soggy food that doesn't brown if you don't give your ingredients enough space. Food releases moisture when heated, and space in the pan allows for the steam from the moisture to escape.

Even if you're in a hurry, waiting for the pan to heat up is well worth the couple of minutes lost. Adding food to a pan that's not ready will result in pale meats and seafood with no sear -- and it could also cause food to stick to the pan.

We know it isn't easy. Once your meat is done cooking, and it looks so delicious, you just want to cut into it and start chowing down. But this is the worst thing you can do; and it's a guaranteed way to ruin the dish you just worked so hard on. If you slice meat too soon, the juices will escape, leaving your dish dry. Give your meat time to rest (five minutes for small cuts and up to 20 for a whole bird or roast). This allows the juices to migrate back to the center of the meat and distribute more evenly.

Foods that go straight from the refrigerator to the oven or stove will most likely result in uneven cooking (overdone exterior and undercooked interior). To avoid this problem, just let the meat stand at room temperature for 15-30 minutes before cooking.

You know what happens to vegetables when they've cooked too much? They turn to mush. The reason this happens more often than not is because vegetables keep on cooking if hot (even if taken off the stove). One good way to avoid this is to stop the cooking by running the finished veggies under cold water.

Cutting with the grain will result in chewy pieces of meat that could have been tender. This is an easy mistake to fix. Look at the piece of meat to determine the direction of the grain and cut against it.

You may have heard it a million times, but do you practice it? Do you taste your food as you cook it? If you don't, you really should start. Recipes aren't always accurate and can often times lead you astray. Tasting your food as you cook means the difference of a mediocre meal or a delicious one.

If you want that nice brown sear on your meat, give it time to brown. Resisting the urge to handle the food while it's cooking is hard, but having that self-control will determine if you get a nice crust on your food or not.

Sure, you might think you can tell when your roast or chicken is done by the color of the exterior, but you don't. You're just guessing. And that can result in under- or over-cooked meals. The only way to really know when meat is done is with a meat thermometer. There are many affordable a good varieties to choose from.