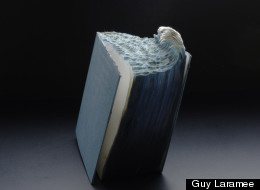 Montreal-based artist Guy Laramee is back with another impressive carved book landscape series.
Laramee carves the edges of vintage books, dictionaries and encyclopedias into mountainous landscapes, tsunamis and incredible waves.
His recently completed sculptural works are part of a project called "Guan Yin," a series he says was inspired by the strength that helps people endure extreme grief and pain.
"This project is dedicated to the mysterious forces thanks to which we can traverse ordeals," Laramee writes on his website.
If you love Laramee's book art, be sure to visit the Christopher Henry Gallery in New York City between now and July 15 where Doug Beube's 'Interlocutors' series and Brian Dettmer's 'Standard American' hardback cover work are on display.
For those near Quebec, Laramee's works are being shown at the Expression gallery in Saint-Hyacinthe through Aug. 12.
Check out a selection of Guy Laramee's carved book sculptures below.