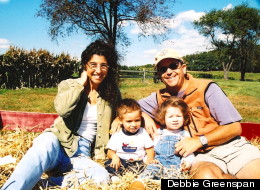 One of the reasons I started my website is that I wanted a place for women to come together and dream. Women should know that they don't have to hang on to an old dream that has stopped nurturing them -- that there is always time to start a new dream. This week's story is about a woman whose obsession with cleanliness led her to invent an amazing new product. – Marlo, MarloThomas.com
By Lori Weiss
It was an early Monday morning when Debbie Greenspan got the phone call that would change her life forever. At 40, she had finally found the man of her dreams and they both desperately wanted a family. But after eight rounds of fertility treatments, the couple decided that being parents was more important to them than how their children came into the world. So they began making plans to adopt. Now, only five weeks from the time they'd made that decision, they were being told to get on a plane. Their baby was waiting.
"I literally got a phone call and I was a mom the next day," Debbie recalled. "All of my motherly instincts just came pouring out. When you adopt, you have no control over the nurturing your baby receives during their gestation period, but I knew I could control what happened once that child was in my arms. And I wanted to do my best to make sure she had everything she needed."
And for Debbie, doing her best meant making sure her daughter Haley and her son Marshall -- whom she and her husband Jerry would adopt later that year -- were brought up in a home that was not only safe and nurturing, but clean. Really clean.

"I grew up just down the road from Elsie the Cow," she laughed. "Really, I did. We passed by the Borden farm on the way to school! Everywhere you looked there were corn fields and pastures. We lived on a 40-acre farm in upstate New York, which my parents had converted into a summer camp. It was an amazing way to grow up. But that also meant that I was constantly exposed to ragweed, trees, grass, pollen and dust, and I was allergic to all of it. Every Monday, my father would drive my oldest brother and me into the city, to get our allergy shots.
"So it's not that I'm a germaphobe, but as a new mom, I wanted to protect my children from all of those things."
And Debbie knew a little bit more than your average mom about allergens -- not only because of her own allergies, but because she'd spent her career working in the hotel industry, where she saw the best and worst of housekeeping. She was painfully aware of the difference between a room that looked clean and one that actually was.
"I'd see Haley crawling around on her activity blanket," Debbie said, "and she'd be putting things in her mouth. My home is very clean, but I'd see particles on the toys, and I realized they were coming from the floor. We were wearing our shoes in the house and tracking in everything we picked up in restaurants and elevators and subways, and along with it, an arsenal of germs."
For many of us, the simple solution would be to make sure everyone removed their shoes before stepping inside. But that wasn't enough for this health-conscious mom. She wanted to know everything she could about what was coming into her home. So she hired an environmental engineer.
"Maybe it's like hiring a NASA astronaut to learn how to drive your car," Debbie said with a smile, "but I was overwhelmed by what I was finding on the internet. And I didn't know what to believe.
"My friends thought I was crazy. They'd say, 'a little dirt is good for them.' 'You can't let your child live under a glass jar.' They thought I was being neurotic. But I didn't know if Haley would have allergies or not, and Marshall was on the way. I wanted to know everything that the Environmental Protection Agency knew."
And what Debbie discovered was that the trouble was right at her front door. It was brewing in exactly the place where most people stopped to do the polite thing -- to wipe off their shoes. The danger lived in her doormat.
"What I learned was that a common doormat is like a convention of germs, toxins and pollutants at your doorstep," Debbie explained. "You think you're doing a good thing by wiping off your shoes before you step inside, but what you're doing is re-contaminating them with everything you thought you wiped off the day before."
The EPA research Debbie received revealed that the concentration of toxic pollutants in our homes may be five to ten times higher than the outside environment. Outdoors, the wind and sun help to break toxins down. But once we carry them inside, they build up in the furniture and carpeting.
And that's when this woman who, at 40, wanted nothing more than to be a mom decided she needed to get back to work and find a solution that would protect families like her own.
"Once I uncovered the problem," she said, "I knew I had to do something about it, but I was so completely out of my comfort zone. I don't have a science background, so I brought in people that did. I put together a team of microbiologists and home environmentalists to create what I couldn't find: A doormat that would destroy harmful bacteria and toxins before they could enter the home."
But what Debbie would soon learn was that building a better doormat was only the first step. She spent eight years trying to find the right manufacturer and lost thousands of dollars to a vendor who promised the world, but couldn't deliver a product that moms like her could count on.
"I wish I could have traveled the world, watching over what these factories were doing. But I needed to be home to make breakfast for my kids. I'd receive samples and I could just see that they were cutting corners and it would break my heart. I wasn't willing to compromise the integrity of my product. If deep inside you, you know something is right, you stick to your original plans."
And those plans paid off. While it took this stay-at-home mom a little longer than she expected, the wait was well worth it. Last year, buyers from Bed, Bath & Beyond came looking for her.
"I couldn't believe this big conglomerate was calling me!" Debbie said with delight. "A manager in one of their stores came across a small article that was written while we were still perfecting the manufacturing process. They loved the idea and told me to take my time and to contact them when we were ready."
This spring, Debbie was more than ready. She'd found a facility just north of Atlanta, Georgia that shared her vision and was able to produce the first antimicrobial treated doormat for the home, made completely with eco-friendly materials.
She named her innovative product Dr. Doormat, because all you have to do is wipe your feet twice and the bacteria, fungus and molds on shoes are rendered harmless. And today, it's on the shelves of more than 200 Bed, Bath & Beyond stores throughout the United States and Canada.
"I brought my kids to the store here in Bethesda, Maryland, and when I heard them say, 'Mommy, you did it,' I just wanted to cry. It was so overwhelming.
"They come home with good grades and you're so proud of them," she said. "This was my chance to have a good grade."
For more information on Dr. Doormat, you can visit DrDoormat.com.
It Ain't Over: Debbie Greenspan
Dr. Doormat, the first antimicrobial treated doormat for the home, is produced with eco-friendly materials at a manufacturing facility north of Atlanta, Georgia.

Dr. Doormat is available in four colors - Peacock Blue, Autumn Red, Chocolate Brown and Charcoal Gray.

Debbie struggled to find the right manufacturer for Dr. Doormat. As a mom, she couldn't travel the world to find a factory, so she had to rely on samples that came through the mail. Here, she is pictured with her two children on early models of Dr. Doormat in 2005.

After nine years of hard work, Debbie can finally celebrate - Dr. Doormat is available in over 200 Bed, Bath and Beyond stores in the USA and Canada, and can also be purchased online. Here, she shows off her successful product.

Debbie met the man of her dreams and married at age 40.

Debbie and her husband are ecstatic to bring home their adopted daughter Haley in January 2002.

Debbie grew up on a 40-acre farm in upstate New York surrounded by ragweed, trees, grass, pollen and dust - all of which she became allergic to. Here, she is pictured on the farm with her brother, sister and best friend, Elyse.

Many of Debbie's friends thought it was extreme when she hired an environmental engineer to help protect her young daughter from germs in the home.

Debbie child-proofed her entire home, but never thought about the kids getting into the plants! Here, Haley smiles with a mouth full of dirt.

When Debbie learned that doormats were breeding grounds for toxins, she decided to find a better way to protect her family. Here, her son Marshall helps with the housekeeping.

Debbie's experience in the hotel industry helped her get started on the long road to developing Dr. Doormat. Here, she is pictured at her first hotel job after college, as Sales Manager for the Embassy Row Hotel in Washington DC.

Even as a young girl, it was clear that Debbie had a talent for keeping things tidy. Here, Debbie is pictured as a counselor at her parent's camp, where she and her best friend Elyse were known to have the cleanest bunk.

Here, the Greenspans pose for a family portrait on Debbie's 42nd birthday. During this time, she was knee-deep in research for Dr. Doormat.

Here, Debbie celebrates her 50th birthday in 2011 with two close friends and her sister, who have been major sources of support during her Dr. Doormat venture. Soon after this photo was taken, Debbie launched Dr. Doormat.

Growing up with Dr. Doormat, Debbie's kids have learned to wipe their feet before entering the house.
Add Marlo On Facebook:
Follow Marlo on Twitter:

Weekly Newsletter

Sign up to receive my email newsletter each week - It will keep you up-to-date on upcoming articles, Mondays with Marlo guests, videos, and more!

Sign up here