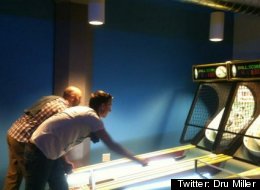 We've reported on a few new offices of the tech elite: Facebook, AOL, AirBnB.
But no office has been quite as anticipated as San Francisco's new Mid-Market Twitter Headquarters. And on Monday, the office finally opened its doors.
(SCROLL DOWN FOR PHOTOS)
Twitter moved 800 employees into its new headquarters and celebrated the building's maiden voyage with a midday barbecue, smoothie shots and chocolate covered strawberries on the rooftop deck. (The unbelievably warm weather certainly didn't hurt.)
"That's right folks…I work here!" tweeted one excited employee along with a photo of the rooftop party. "Does your office have skee ball?" she tweeted again later.
Even Twitter founder Jack Dorsey stopped by the party, tweeting "Our outdoor rooftop deck," with a photo. "Gorgeous."
The office also got a visit from Mayor Ed Lee and District Supervisor Jane Kim. Kim posted photos of the micro health kitchen (!) and the inner workings of the office on her Facebook page, noting that the space--in one of San Francisco's most blighted neighborhoods--had been vacant for more than 50 years beforehand.
The opening was significant not only because it marked the completion of the major construction project, but more importantly because it highlighted the fruits of Mayor Lee's infamous Twitter tax break.
In 2011, Lee granted the company a significant tax break to stay in the city when it grew too big for its former britches. The catch? Twitter had to move to Mid-Market to help stimulate the neighborhood's socio-economic growth.
While the plan was lauded by some as an innovative solution to the challenges of the neighborhood, others called the move an "ill-conceived corporate giveaway," and worried that the plan would only displace residents.
Will the plan work? Only time will tell. But in the meantime, check out Twitter's sweet new Mid-Market digs in the slideshow below:
@SFTrends: Lunchtime at the new @twitter office. 77 degrees and sunny today. ‪#perfect‬

@jack: Our outdoor roof deck. Gorgeous.

@HippieSoul414: That's right, folks...I work here! RT @mighty55 360 view of the New @Twitter HQ rooftop deck ‪#amazing‬ ‪#360panorama‬ http://360.io/PbgSky

@HippieSoul414: Does your office have skee ball?‪#NewTwitterHQ‬ cc @johnheywood @toddlevy13 pic.twitter.com/ztEh9faP

Mayor Ed Lee explores the office.

@jack: Our amazing new space. @dickc kicking it off by thanking the team that made it happen.