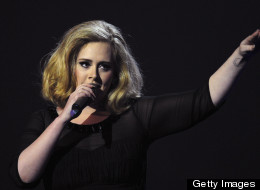 It's Black Music Month, and HuffPost Black Voices wanted to do something a little off the cuff – outside of the usual celebratory revelry that has become commonplace among black media.
With that in mind, we invite you to get informed, get entertained and get engaged by some white singers who are beloved by the black community.
Though we may have omitted a few, please let us know your favorites in the comments section.
PHOTOS:
Justin Timberlake For his debut album, "Justified," Timberlake enlisted hip-hop producers Timbaland and Pharrell Williams and has since kept close ties to hip-hop and R&B by appearing on songs with Beyonce, T-Pain, Ciara and Snoop Dogg, to name a few.

Adele Known for her soulful tracks, the Grammy Award-winning singer has often compared her lyrics to poetry and credits Jill Scott as one of her many inspirations as an artist.

Lisa Stansfield Stansfield covered Barry White's 1973 song "Never Never Gonna Give You Up" and shed her clothes in the video for the single, which was her last Hot 100 hit.

Teena Marie "Square Biz" - featuring what is considered an early rap lyric with its reference to poet Nikki Giovanni -- has been a mainstay on black radio stations since it was released in 1980.

Andrea Bocelli Known as one of the greatest classical singers of all time, Bocelli teamed up with a few soul sisters on his David Foster-produced holiday album, "My Christmas," which became the best-selling holiday album of 2009.

Annie Lennox Lennox and Aretha Franklin collaborated on the catchy 1985 ladies anthem 'Sisters Are Doin' It For Themselves' and also joined forced at the 25th anniversary concert for the Rock and Roll Hall of Fame, where they performed the Queen of Soul's hit 'Chain of Fools.'

Barbara Streisand The "Funny Girl" star teamed up with Donna Summer for the platinum-selling single "No More Tears (Enough is Enough)," in 1979 and is said to have been encouraged to collaborate with The Queen of Disco at the urging of her son, Jason Gould, who was a fan of Summer.

Barry Manilow Barry Manilow produced several tracks on Nancy Wilson's 1991 album "With Lover Beside Me."

Bette Midler Midler, who is said to be one of the most successful female singers of all time, was one of only two white women asked to participate on the Quincy Jones-produced 1985 charity single "We Are the World"; Cyndi Lauper was the other.

Bonnie Raitt Raitt's 1977 cover of Del Shannon's "Runaway," which became her first commercial hit, was heavily influenced by Al Green. In recent years, Boyz II Men famously covered Raitt's classic "I Can't Make You Love Me."

Bono Bono has always been a fan of hip-hop and R&B artists, having teamed with Wyclef Jean, as well as John Legend and Angelique Kidjo on the 2010 song "Move On Up."

Cyndi Lauper The "Girls Just Want to Have Fun" singer has always had a flamboyant sense of style similar to Patti LaBelle's and has maintained close ties with several soul singers over the years.

David Bowie In 1975, Bowie discovered the sound of Philly soul and considered himself "plastic soul," exploring the genre on his 1975 album "Young Americans." He became one of the few white artists invited to perform on "Soul Train."

Elton John John joined Dionne Warwick, Gladys Knight and Stevie Wonder for the 1986 Grammy Award-winning charity single "That's What Friends Are For," which raised money for his biggest cause: AIDS research.

Eminem In addition to being one of the biggest-selling rap acts of all time, Eminem has been heralded as one of the most talented rappers ever and is credited with discovering and signing New York MC 50 Cent to his Shady Records label.

George Michael Michael, who had a duet with Aretha Franklin with "I Knew You Were Waiting (For Me)," also teamed with iconic songstress Whitney Houston on "If I Told You So."

Gwen Stefani The L.A.M.B. designer branched off into a solo career with an R&B- and hip-hop-influenced debut "Love.Angel.Music.Baby," which featured production from Pharrell Williams, Dallas Austin and Dr. Dre and two noteworthy appearances by Andre 3000.

John Mayer The "Waiting for the World to Change" singer, who has famously worked with African American singers such as Alicia Keys, Common, Kanye West and B.B. King, performed at Michael Jackson's Staples Center memorial in 2009.

Joss Stone Stone, who has sold more albums than any other female British soul singer during the 2000s, has collaborated with Angie Stone, Betty Write and The Roots.

Justin Bieber Since attaining chart-topping success, Usher's protégée has since transitioned over into the hip-hop world with a string of freestyles over Chris Brown's "Look At Me Now," and The Notorious B.I.G.'s "Who Shot Ya," to name a few.

Kenny Rogers "The Gambler" crooner has earned quite the black music following not only from his appearance on "We Are the World," but also for his many soulful collaborations with Lionel Richie.

Lady Gaga Senegalese singer Akon convinced Interscope head Jimmy Iovine to allow him to sign Gaga to his Kon Live imprint and helped the singer get her Grammy Award-winning debut, "The Fame," released in 2008.

Liza Minnelli Minnelli, who was dear friends with the late Michael Jackson, performed his hit song "You Are Not Alone" at the King of Pop's 30 anniversary concert special.

Madonna R&B singer and producer Kenneth "Babyface" Edmonds and Madonna collaborated on the singer's 1994 single "Take a Bow."

Michael Bublé In addition to recording with Boyz II Men on the 2008 song "Comin' Home Baby," Bublé has recorded his rendition of Stevie Wonder's "You and I" and the Marvin Gaye classic "How Sweet it Is (To Be Loved By You)."

Michael McDonald McDonald penned the Carly Simon classic "You Belong to Me," which has been covered by Anita Baker and Chaka Khan. He sang the track alongside the Rufus front woman on her 2007 album "Funk This."

Mick Jagger "Use Me," a cover of Bill Withers' 1970s classic was a highlight off of "Wandering Spirit," Jagger's 1993 solo outing released on Atlantic Records. It featured Lenny Kravitz.

Paul McCartney As a member of The Beatles, McCartney was a part of the most iconic group of all time; the foursome got their start playing with Little Richard.

Pink Shortly before the Pennsylvania native's music took an edgier rock sound, she won her first Grammy Award for the 2001 Missy Elliott-produced cover of Patti LaBelle's 1975 single "Lady Marmalade" with Lil' Kim, Mya and Christina Aguilera.

Robin Thicke Robin Thicke produced "Can U Handle It?" on Usher's 2004 breakout diamond-certified album "Confessions."

Sting Toward the end of their run, The Police had reggae-influenced material, but with his solo debut, Sting leaned more toward a jazz-tinged sound, enlisting the help of Branford Marsalis, Darryl Jones, Kenny Kirkland and Omar Hakim for the 1985 album "The Dream of Blue Turtles."

Tom Jones Jones enlisted the help of former Fugees member Wyclef Jean to produce his 2002 offering "Mr. Jones."

Willie Nelson Nelson's songwriting has influenced several soul singers due to his style of country music has been characterized as steeped in rock and roll and jazz.

Tony Bennett Bennett was inspired to become a singer by jazz great Louis Armstrong and made an effort early in his career to model his sound after Frank Sinatra -- with a more soulful sound. He was the first white male pop vocalist to have the honor of performing with the Count Basie Orchestra in 1959.