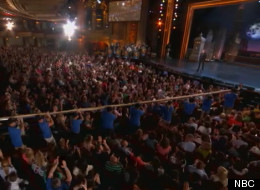 Continuing what has already been a raucous series of episodes taped in Chicago as part of the Just For Laughs festival, Conan O'Brien presented what he claimed to be the world's longest-ever Chicago-style hot dog on stage at the Chicago Theater Wednesday.
After praising Chicago for having "the best food in the world," O'Brien called the Chicago-style hot dog "quite possibly the greatest invention in history" and proceeded to announce the arrival of a 40-foot-long, 37-pound neon green relish-slathered wiener-in-a-bun, courtesy of the Chicago-based Vienna Beef Company.
While O'Brien claims the Guinness World Records committee "blew them off" in their attempt to verify their feat, they recruited "a man drinking a Guinness" at a nearby bar to lend his seal of approval.
And no, O'Brien chose not to launch this particular meat over a downtown Chicago bridge.
The current official World record for longest hot dog of any kind -- 668 feet -- is held by Novex S.A. and was revealed at Expoferia 2011 in Paraguay last summer.
O'Brien's Chicago tapings wrap up Thursday with special guests Adam Sandler and comedian TJ Miller.