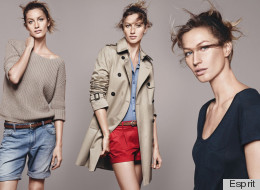 Esprit, that iconic '90s fashion house and purveyor of once-hot logo totebags and chic casualwear, has been financially treading water for months. We're worried.
Esprit de Corps first opened its doors in San Francisco in the 1970s, before soaring to fame in the '80s as one of the most popular brands of that decade; in 1978 they reported a $100 million company turnover. In the '90s, however, the company settled into tougher times with a rotating staff of execs and dwindling profits that marred its development for decades. In September of 2011, Esprit pulled out of Canada and the United States -- not a stellar sign.
And it gets worse: the retailer, now based in Hong Kong, said back then that its earnings for fiscal 2011 dropped 98 percent. On Thursday, news broke that Esprit's CEO Ronald van de Vis was resigning for "personal reasons," just two days after the company's chairman Hans Joachim Korber quit; Esprit's stock plunged when the news broke.
It's always sad to see such a style stalwart start to crumble, especially one that's brought us some stunning campaigns, including as recently as this spring, one from Gisele. As our team discussed the news, we realized that perhaps some of the problem was that Esprit simply stopped making memorable clothes, losing its hold on the "young and exciting" basics market to stores like H&M and Zara. While many of us begged our moms to buy us Esprit dresses in the '90s, most of us hadn't purchased an item from the brand in close to a decade.
We got to thinking: what other stores did we previously shop at where now, we rarely darken a door? We weighed in below; read through and join our Esprit prayer circle.
PHOTOS:
Stores We Don't Shop At Anymore
"In high school my friends and I were all about Hollister and Abercrombie. If you didn't wear it you might as well have crawled in a hole and died. So I was pretty much stocked up on seagull and moose donned polo shirts, plaid shorts and skirts." - Nicole Guzzardi, Stylelist Home intern

"H&M was one of my go-tos for affordable basics and statement jewelry. But over recent months, I've grown really frustrated with the fast fashion retailer. From the wonky sizes to the flimsy materials, it's not even worth spending five dollars." -- Dana Oliver, HuffPost Beauty Editor

"Everyone in my high school bought flared black pants and satin button-downs there (it was the '90s), but I haven't bought anything there since 2001." - Jessica Misener, HuffPost Style editor (Getty photo)

"I used to think large thrift stores that sold really cheap clothing were great bargains... until I saw Forever 21 and H&M pieces that were selling for as much as they were in the real stores." -- Style intern

"Armani Exchange used to be the pinnacle of edgy apparel with a reasonably affordable tag. But somewhere down the line, the quality of their clothes started to decline and their designs looked pretty tacky." -- HuffPost Home Intern

"I used to get all of my baby tees there in 1995." - Shana Ecker, Stylelist Home editor (Getty photo)

"Benetton in the 90s! Big sweaters for everyone... Diesel for a regrettable moment in the early 00s, then realized I looked like a European tourist everywhere I went, so that was shelved. And I used to stock up on tanks at American Apparel in 2004-5, and now the store looks like the wardrobe department for A Different World." - Brie Dyas, Stylelist/Stylelist Home senior editor (Getty photo)

"I used to loooove Limited Too, until I realized that not everything is made better with "LTD2" logos strewn all over it. Also, I grew." - Ellie Krupnick, HuffPost Style Senior Editor (Courtesy photo)

"I thought it was cheap and quick, but it was still a waste of money because everything that I bought there was ruined after the first wash. The hem would become uneven or a tiny hole would appear." -- Renee Jacques, HuffPost Style Intern

"I used to shop at French Connection until I realized that all of the clothes are cut for American Girl Dolls." - Rebecca Adams, HuffPost Style associate editor

"I loved it then, but I haven't set foot in a Wet Seal in over a decade." - Christina Anderson, Senior Editor

"While I don't shop at any of these stores anymore, I always felt like Aeropostale was a wannabe Abercrombie & Fitch or Hollister. The styles never seemed to match up and it came across as tacky most times. However, I do remember liking their bathing suits. Now, not so much." -- Renee Jacques, Style Intern

"I used to go here for basics but there's far too much product on the floor, and its always a mess. I also find that many times, the material they use is of poor quality and falls apart after only a few washes."

In trading on Tuesday, department stores shares were relative laggards, down on the day by about 0.7%. Helping drag down the group were shares of JC Penney (JCP), down about 10.7% and shares of Companhia Brasileira (CBD) down about 2.4% on the day.
Want more? Be sure to check out HuffPost Style on Twitter, Facebook, Tumblr and Pinterest.