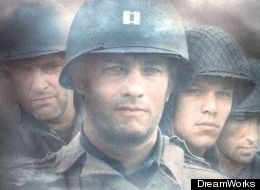 Fathers like the simple pleasures in life: barbecues, playing golf, buying ties, and sitting in front of the television set on a lazy Saturday afternoon. So, which Father's Day movies should you watch with dear old dad as you celebrate him this weekend.
From John Wayne and James Bond to Bill Murray and Mrs. Doubtfire, dads have specific movie tastes -- and whether you're a young boy or girl or an adult headed home to see dad with your own child in tow, these are the movies to watch this Father's Day.
Have a favorite Father's Day movie of your own? Let us know in the comments section. Happy Father's Day!
Father's Day Movies To Watch With Dad
You can't really have Father's Day without a John Wayne movie, so why not pop in "The Searchers"? Sure, it's much darker than Wayne's other Western favorites, but it's also The Duke's best film. Alternates: "Stagecoach" or "The Man Who Shot Liberty Valance."

"No, Mr. Bond, I expect you to die." The Sean Connery-led Bond films are standard issue Father's Day fare, and "Goldfinger" might be Bond's best -- a swingin' '60s romp of fast cars, beautiful women and fantastic one-liners.

Your dad might not be up for "That's My Boy," but he's certainly down for "Caddyshack," the ultimate snob-versus-slobs comedy set on the golf course. So you've got that going for you ... which is nice.

The story of a little girl whose father goes missing in action in World War I, dooming her to a life of servitude at a New York boarding school. It's OK to shed a few tears on Father's Day.

Nothing like the love of a father turned into an animated fish-tale by Pixar to bring the family together.

"If you build it, they will come." The best baseball movie ever ends with a father-son catch that spans life and death. You'll cry. He'll cry. Then you'll throw the ball around.

The perfect film to remind your dad how good he has it -- or to give him a glimpse into what his life could eventually become...

Mr. Incredible: The type of dad who will do anything -- including fight a dastardly supervillain -- to save his family.

Atticus Finch isn't a superhero, but he's probably cinema's best dad ever. Enjoy!

Help is on the way! Robin Williams takes custody battles to the extreme in "Mrs. Doubtfire," which could have been sad like "Kramer vs. Kramer," but isn't. It includes a "run-by fruiting," after all.

If your dad was part of the Greatest Generation, there is no better film to watch on Father's Day.

Dads like two thing: Stephen King books and TNT. "Shawshank Redemption" combines both: It's based on a King short story and airs on TNT every other day. Hope is a good thing, maybe the best of things -- especially on Father's Day.