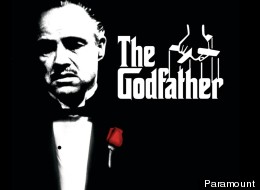 Turning a board game like "Battleship" into a feature film didn't work out all that well for Hasbro, so what about trying something in the other direction? USAopoly, in conjunction with Hasbro and Paramount Pictures, will debut a new version of the famed board game Monopoly based on "The Godfather."
"Reminisce and relive 'The Godfather' story anew as you play America's favorite game with a killer instinct the Don would respect," reads a press release announcing the game. "Expand your family's interests by amassing property and influence as you seek to bankrupt those around you." Because nothing says "family game night" like cutthroat mafia tactics and potential knee-capping.
"The Godfather" version of Monopoly features all the accoutrements of the Francis Ford Coppola film: game pieces range from a can of Genco olive oil to a horse head (true), while players can purchase everything from Moe Green's casino to Hyman Roth's house. Whether the game becomes bigger than U.S. steel remains to be seen, but there you go.
For more details on the "Godfather" Monopoly game, head over to Deadline.com. Unpack the game box in the video below.
[via Deadline.com]
'The Godfather' Cast: Where Are They Now?
Pacino was a little-known New York theater actor when Francis Ford Coppola insisted on casting him as Michael over such established stars as Robert Redford and Ryan O'Neal. Of course, the role made him instantly famous and launched a film career that included iconic turns in such films as "Serpico," "Dog Day Afternoon," and "Scarface," as well as the two "Godfather" sequels. After multiple at-bats, he finally won an Oscar for 1992's "Scent of a Woman." Still in demand, he was last seen playing a comic version of himself in Adam Sandler's "Jack and Jill" last winter. Up next for the 71-year-old star: the title role in a film version of "King Lear" and another gangster movie, "Gotti: In the Shadow of My Father."

Like Al Pacino -- with whom she had an on-again-off-again relationship that lasted through all three "Godfather" films -- Keaton was a little-known New York stage actor when she landed the role of Michael Corleone's wife, Kay. She, too, became an instant star in 1972, thanks both to "The Godfather" and "Play It Again, Sam," the first of her eight movies with Woody Allen. He chronicled their early-'70s romance in 1977's "Annie Hall," which won Keaton an Oscar (and, with her masculine wardrobe, made her a fashion icon). Other highlights of her career include "Reds" (made with then-lover Warren Beatty), "Baby Boom," the "Father of the Bride" movies, "The First Wives Club," and "Something's Gotta Give." At 66, she remains in demand as a comic and dramatic actress. Last seen opposite Harrison Ford in 2010's "Morning Glory," she's starring this year in "The Big Wedding."

Duvall had spent the 1960s in bit parts in TV and movies, but after 1970, his career was on the upswing with major roles in "M*A*S*H," "THX 1138," and finally "The Godfather." After the role of Tom Hagen made him a star, he continued to play ruthless authority figures in such films as "Network," "The Great Santini," and "Apocalypse Now" (his reunion with Francis Ford Coppola, who gave him the unforgettable line, "I love the smell of napalm in the morning"). The 1980s saw him win an Oscar for "Tender Mercies" and star in the landmark TV miniseries "Lonesome Dove." Today, the 81-year-old Duvall remains ubiquitous as a character actor who lends both dignity and a hint of mischief to a project, such as 2010's "Get Low." He'll be seen later this year in "Jayne Mansfield's Car."

Caan had a few small movie roles to his credit (including Coppola's "The Rain People") before his 1970s breakthrough as a dying football star in the TV movie "Brian's Song." The role of hot-headed Sonny Corleone catapulted him to film stardom, and throughout the '70s and early '80s, he played blunt men of action in such films as "Rollerball," "The Killer Elite," and "Thief." Sidelined in the '80s by cocaine and depression, he returned to the screen in Coppola's "Gardens of Stone" (1987) and enjoyed a full career comeback as the hostage novelist in "Misery" (1990). Since then, he's been dependable as hard-boiled, older tough guys in films from "Honeymoon in Vegas" to "Elf." Caan, who turns 72 on March 26, was last seen a few weeks ago in a guest role on an episode of the rebooted "Hawaii 5-0," which stars his son, Scott Caan.

Shire is Francis Ford Coppola's sister, but she landed the role of Connie in the three "Godfather" movies over his objection; he thought she was too pretty for the role, but producer Robert Evans insisted on casting her. The role made her a star, though she became even more famous as the mousy Adrian opposite Sylvester Stallone in the "Rocky" movies. Now 65, she seldom acts anymore (her last major film role was in 2004's "I [Heart] Huckabee's"), and she's better known today as the mother of actor Jason Schwartzman.

Though he was 50 years old when he landed the part of the treacherous Tessio in "The Godfather," Vigoda had been in just one previous film. The movie made such an indelible mark on his career that most of his roles thereafter were gangsters or cops -- notably, Phil Fish, the detective he played on 1970s sitcom "Barney Miller" and its spinoff, "Fish." His hangdog, world-weary demeanor has always made him seem older than he is, to the point where he's often been rumored to be dead. (He's enjoyed popping up on late-night talk shows to debunk the rumors.) In 2010, he co-starred with fellow octogenarian Betty White in a celebrated Super Bowl ad for Snickers. Now 91, he's still alive and kicking, thank you very much.

When he was reading for the part of casino mogul Moe Greene, Rocco hinted that he knew some real mob guys. (They weren't Italian Mafiosi, however, but Irish gangsters he'd met in his native Boston.) He was already a veteran of mob movies like 1967's "The St. Valentine's Day Massacre." After "Godfather," he played in several more, including "The Friends of Eddie Coyle" (about Boston mobsters), "Get Shorty" (1995) , "Find Me Guilty" (2006), and the animated "Batman: Year One." Of course, he's played roles other than mobsters, such as Jennifer Lopez' overbearing dad in "The Wedding Planner" (2001), but the 76-year-old is still best known for getting shot in the eye at the end of "The Godfather."

Born in 1930, Maria Grazia Morgana Messina grew up in an Italian-American family in upper Manhattan before taking the stage name Morgana King. She was better known as a jazz singer than an actress; her most notable film role is as Corleone matriarch Carmela in the first two "Godfathers." In her five-decade music career, she released more than 30 albums. She retired from live performing in 1993 and from recording in 1998.

To land the role of Carlo, Connie's violent husband, Russo hinted (like Rocco) that he had a violent past with close ties to actual mobsters. (In his screen test, he successfully terrorized a production secretary the way he would Connie in the movie.) "Godfather" made Russo a star, and while he's also acted in such movies as "Any Given Sunday" (alongside "Godfather" brother-in-law Al Pacino) and "Seabiscuit," Carlo remains his best-known role. An accomplished crooner, the 68-year-old makes his living today on the cabaret circuit.

Rome-born Stefanelli was just 16 when she landed the role of Apollonia, Michael's ill-fated Sicilian wife, a role that called for a nude scene during the couple's wedding night. She could have been a Hollywood star after "The Godfather" became a blockbuster, but she chose to remain in Italy and appeared in numerous Italian films over the next 20 years. (There was also one English language production, the 1974 miniseries "Moses the Lawgiver," with Burt Lancaster and Anthony Quinn.) Now 57, she runs a boutique in Rome, selling purses and shoes of her own design.

Brando may have been the premier actor of the second half of the 20th century, but by 1970, the eccentric star was considered box office poison. He agreed to make "The Godfather" for a very modest fee ($50,000 up front) and wound up delivering one of cinema's most iconic performances and earning his second Oscar (which he refused to accept, famously sending a Native American activist who called herself Sacheen Littlefeather to claim his trophy). 1972 also saw his triumphant, wrenching performance in the landmark "Last Tango in Paris." Suddenly, Brando was in demand again, commanding top dollar even for just a few minutes of screen time, as in "Superman" and Coppola's "Apocalypse Now." Nonetheless, he soon reverted to his eccentric ways and began to seem a bloated parody of himself. Occasionally, however, there were flashes of the old brilliance, such as "The Freshman," where he gracefully spoofed his "Godfather" role. He died at 80 in 2004.

Cazale had worked with Pacino on stage before both unknowns were cast as brothers in "The Godfather." His performance in the pivotal role of Fredo made Cazale an in-demand character actor. He worked with Coppola again in "The Conversation" and "The Godfather Part II," with Pacino again in "Dog Day Afternoon," and with Robert De Niro and Meryl Streep (who was Cazale's fiancee) in "The Deer Hunter." He died at 42 of bone cancer in 1978, shortly after completing his "Deer Hunter" scenes. He acted in only five movies (six if you count his appearance in archival footage in "The Godfather Part III"), but all five were classics and all were nominated for Best Picture, with three of them winning the Oscar. Does any actor have a better batting average than that?

Hayden was a lifelong sailor who became a ship captain at age 22 and preferred seafaring to all other activities. He claimed to disdain film acting and said he did it only to finance his ocean voyages. Nonetheless, he was an established star, playing tough-guy roles in such films as "The Asphalt Jungle," "The Killing," and "Dr. Strangelonve," before he was cast as the corrupt police captain McCluskey in "The Godfather." After the movie brought him a new round of fame, he had a few more notable roles, in such films as "The Long Goodbye" and "Nine to Five." He died in 1986 at age 70.

Before he woke up with a horse's head in his bed, Marley was a veteran character actor and had earned an Oscar nomination as Ali MacGraw's supportive dad in 1970's "Love Story." After "The Godfather," he continued to be typecast as movie moguls in "W.C. Fields and Me," "Hooper," and the TV miniseries "Movieola." He died in 1984 at age 76 of complications from open-heart surgery.

Before he played Corleone family enforcer Luca Brasi, the 320-pound Montana had actually been a mob enforcer (for the Colombo family), as well as a pro-wrestler. He'd never acted before he was cast in "The Godfather," and his nervousness over getting his lines right was written into the film. Afterwards, he was in demand for thug roles on TV ("Magnum P.I.") and movies ("The Jerk"). He died of a heart attack at age 66 in 1992.

Conte had been known for war movies and crime dramas during his heyday in the 1940s and 1950s, culminating in his appearance opposite the Rat Pack in the original "Ocean's Eleven" (1960). His Hollywood career dried up, and he had turned to acting in Europe, when producers considered him to play Vito Corleone in "The Godfather." When that role went to Brando, Conte was cast as his chief rival, Don Barzini. After "The Godfather," he continued to make mob movies in Europe. He died of a heart attack at age 65 in 1975.

Lettieri got a late start, making his movie debut at 36 in 1964's "The Hanged Man." He played plenty of hoods and villains, but none as memorable as drug-dealing viper Sollozzo in "The Godfather." Lettieri claimed to have relatives in the Genovese crime family, some of whom he introduced to Brando, Pacino, Caan, King, Russo, and producer Al Ruddy at a family dinner in New Jersey. He went on to play heavies opposite such stars as Steve McQueen ("The Getaway"), Charles Bronson ("Mr. Majestyk"), and John Wayne ("McQ"). He died of a heart attack in 1975. He was just 47.

On just his fourth film, 1970's "Lovers and Other Strangers," Castellano earned an Academy Award nomination for Best Supporting Actor. (He competed against future "Godfather" co-star John Marley, nominated for "Love Story," but both lost to John Mills in "Ryan's Daughter.") The Oscar nod landed him the role of Clemenza, who teaches Michael how to make meat sauce and how to whack a pair of enemies. After "The Godfather," he played blue-collar guys on TV, in the series "The Super" and "Joe and Sons." He played cops and gangsters in a handful of movies before he died in 1988 from a heart attack at age 55. His widow claimed he was a nephew of Gambino crime family boss Paul Castellano.

Like his character, Al Martino had been a popular Italian-American crooner who was in search of one big Hollywood break. (He even hinted that he asked his own godfather, crime boss Russ Bufalino, to pressure Coppola into giving him the role of Johnny Fontane.) "The Godfather" put him back on the pop culture map, and although he seldom acted again outside the trilogy, he remained a staple on the lounge circuit and in recording studios for the rest of his life. He died at 82 in 2009.