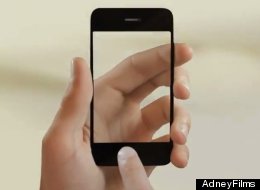 We've seen a lot of iPhone 5 concept designs, but this one takes the cake.
Created by 17-year-old Dakota Adney, the mock-Apple commercial shows a realization of how the iPhone 5 could look with a transparent screen and virtually projected keyboard.
In the video above, Adney shows the viewer various applications from Twitter to Instagram To write a text message, the iPhone 5 concept user sets down the device flat on the table and begins typing on a virtual keyboard created by a laser projector on the lower left side of the device.
But what may be most impressive about this fake Apple commercial is its creator. Adney is a 17-year-old Oklahoma high school student with some pretty advanced production skills.
This iPhone 5 concept is not his first faux Apple creation. Under his production name, Adney Films, Adney also created a similar iPad 3 concept video last year, and more recently debuted a clever MacBook Air promo. His iPhone 5 design is similar to the iPad 3 with its translucent screen and slim look.
Adney described the features of the iPhone 5 concept in the video's description.
Clearly amazing. The quad-core A5 chip delivers even more power. The laser projection keyboard liberates your thumbs. The new iClear Retina display presents sharp graphics and stunning images. iOS 6 will take your iPhone experience in an entirely new direction. And if there's anything else you need, just ask Siri.
Watch the video for yourself above, and check out the gallery below to view a more down-to-earth iPhone 5 mock-up, courtesy of TechnoBuffalo.
The iPhone 4S is pictured in the center between a blueprint of the iPhone 4 and the alleged schematic of the iPhone 5 that was recently leaked.

From left to right: the iPhone 5 mock-up, the iPhone 4S, the real-life iPhone 4S and the alleged schematic for the iPhone 5.

The iPhone 5 is rumored to have a half-inch larger display than its predecessor. In the mock-up, the iPhone appears as an elongated version of the iPhone 4S.

The alleged iPhone 5 schematic and real-life iPhone 4S are compared alongside the printed mock-up and image of the iPhone 4S.

The iPhone 4S is pictured between images of the iPhone 5 mock-ups in black and white.

The iPhone 5 mock-up home screen on the left contains five rows, along with the fixed bottom row, whereas the iPhone 4S contains four rows.

A cutout of the iPhone 5 mock-up is placed on top of a iPhone 4S to show what the design would look like in a user's hand.

The iPhone 5 mock-up in white is pictured next to its iPhone 4S counterpart.

TechnoBuffalo designed the iPhone 5 mock-up in both black and white.