Un año atrás, el periodista de origen filipino y ganador del Premio Pulitzer por su investigación sobre la masacre de Virginia Tech y ex editor en The Huffington Post, José Antonio Vargas reveló al mundo que era un inmigrante indocumentado. Esta semana, en la portada de Time Magazine, Vargas describe este último año que pasó como figura pública sin estatus legal y dice que él también es americano.
Vargas es retratado en la portada entre las frases "We Are Americans" (Somos estadounidenses) y "Just not legally" (Solo que no legales"), junto con otros indocumentados de alrededor del mundo. También ellos salieron de las sombras recientemente y revelaron públicamente su estado migratorio ilegal.
En la introducción del artículo titulado "Dentro del mundo del inmigrante 'ilegal'", Vargas sintetiza la realidad diferente que vive el inmigrante indocumentado, al "que mucha gente llama simplemente 'el ilegal'" y sostiene que "es un tema que afecta a personas de todas las etnias y orígenes: latinos y asiáticos, negros y blancos.
Vargas caracteriza al sistema migratorio como fundamentalmente colapsado; impide que candidatos que lo merecen y que en muchos casos se identifican como estadounidenses, residan legalmente en el pais. También habla de su nueva campaña, denominada "Define American" (Defina al estadounidense).
"Fundé la campaña 'Define American' para documentar la vida de los indocumentados y aprovechar el apoyo de nuestros aliados en torno a este tema tan controvertido y mal entendido", escribe Vargas. "Se estima que hay 11.5 millones de personas como yo en este país, seres humanos con historias tan variadas como la de los propios estadounidenses y sin embargo, que carecen del derecho legal a existir aquí", añade Vargas.
Una tía y un amigo de la familia Vargas lo ayudaron a llegar a Estados Unidos de manera ilegal cuando tenía 12 años de edad con un pasaporte falso, reveló Vargas en las páginas de The New York Times Magazine el año pasado. Él descubrió la verdad sobre su estatus migratorio recién a los 16 años, cuando trató de obtener un permiso de conducir y le dijeron que sus documentos eran falsos.
Para Vargas y muchos otros filipinos, la espera por una visa a los Estados Unidos podría durar décadas. Aquellos que se casan con un ciudadano estadounidense o que tienen habilidades profesionales y una formación requeridas en este país, pueden emigrar con mayor rapidez. Las autoridades migratorias estadounidenses están en el proceso de expedición de visados a los filipinos que pidieron permiso para emigrar en 1989 y que no cumplen los criterios para la entrada más rápida, según datos federales. Los inmigrantes mexicanos también enfrentan tiempos de espera similares.
"Ha pasado casi un año desde que publiqué mi ensayo en The New York Times y que he creado con la ayuda de amigos 'Define American'", dijo Vargas en un correo electrónico a The Huffington Post esta semana. "Desde el principio, nuestro objetivo en 'Define American' fue elevar, mejorar la forma en que se habla de inmigración en Estados Unidos. Ese momento es ahora, especialmente teniendo en cuenta la muy próxima decisión de la Suprema Corte sobre la ley migratoria de Arizona y la elección presidencial. Más y más indocumentados y los ciudadanos estadounidenses que nos apoyan –las personas que componen nuestra red de apoyo underground– están saliendo de las sombras, desafiando a los políticos y los medios de comunicación. Necesitamos conversaciones más honestas".
This week's TIME cover story comes at a moment when immigration policy and the debate about reform appears likely to serve as a key election issue and topic of national debate. The Supreme Court is expected to decide on the legality of Arizona's state-level immigration enforcement law, SB1070, this summer. The Department of Justice is working to reign in immigration hardliner Sheriff Joe Arpaio. Arpaio faces a lawsuit brought by the nation's top law enforcement agency for alleged discrimination against Latinos. Furthermore, possible Republican Vice Presidential nominee Sen. Marco Rubio continues to defend his DREAM Act-like proposal that, although not yet introduced as a formal bill, has faced criticism from both sides of the aisle.
La portada de TIME llega en un momento en que la política de inmigración y el debate sobre la reforma migratoria se constituyen en tema central en la contienda electoral y el debate nacional. Se espera que la Corte Suprema de Justicia decida sobre la legalidad de la ley SB1070 de Arizona este verano. El Departamento de Justicia está tratando de limitar la línea dura del Sheriff Joe Arpaio contra los inmigrantes. Arpaio enfrenta una demanda por supuesta discriminación contra los latinos por parte del gobierno federal. Además, el posible candidato republicano a la vicepresidencia senador Marco Rubio, sigue defendiendo su propia versión del DREAM Act contra críticas desde ambos partidos, aunque no la ha presentado todavía como un proyecto de ley formal.
La publicación de la historia de Vargas en TIME se produce meses después de que la revista publicó un reportaje con un titular en español que establecía que el voto latino podría ser un factor decisivo en la elección presidencial con base en el crecimiento demográfico de los hispanos en varios estados clave. La edición especial, publicada en febrero, contenía una entrevista con el senador Rubio y un editorial del presentador de noticias de Univisión Jorge Ramos.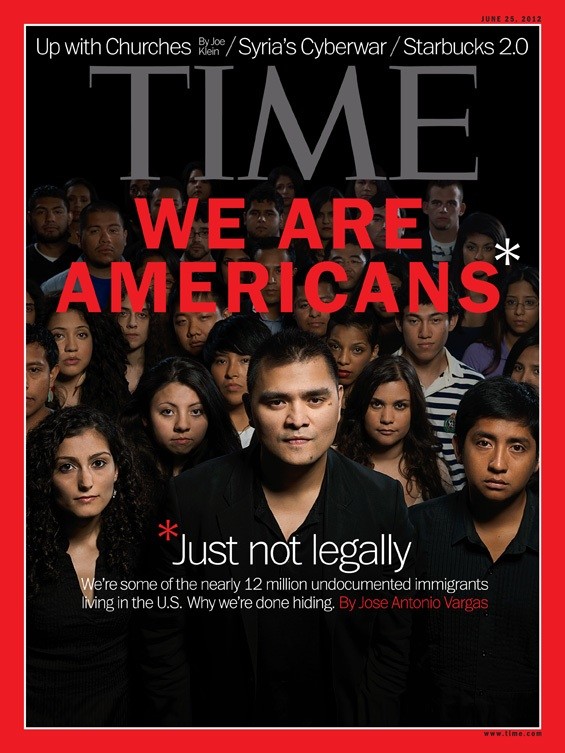 SUBSCRIBE AND FOLLOW
Get top stories and blog posts emailed to me each day. Newsletters may offer personalized content or advertisements.
Learn more