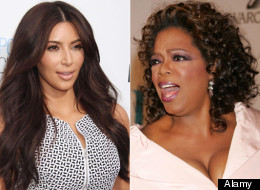 Oprah Winfrey didn't shy away from asking Kim Kardashian some hard-hitting questions in her upcoming interview with the Kardashian family.
While the media mogul put the whole family in the hot seat -- asking if they're "completely ego centered" and whether they're "really 'famous for being famous'" -- she was shocked by what Kim revealed about her short-lived marriage to Kris Humphries.
"Everyone who's asked was the marriage a publicity stunt? Why did she leave after 72 days? Her answer leveled me," Winfrey wrote on her Facebook page Wednesday.
Kardashian famously filed for divorce from Humphries in October 2011, just 72 days after their estimated $10 million dollar wedding.
The full interview airs on Sunday at 8pm on "Oprah's Next Chapter."