We first fell in love with Catherine Zeta-Jones in 2002 when she showed off her pipes and gams in "Chicago" (yes, we're dating ourselves). But we've seen little of the Oscar-winning actress since the mid-2000s... until now, thanks to "Rock Of Ages." In it she plays a "suit-wearing, church-going, staunchly conservative mayor's wife", i.e. the opposite of the saucy flapper girl of her "Chicago" days.
So what's the new, suited-up Catherine like? With all the press tours, red carpets and photo opps for "Rock Of Ages," we've discovered that since we last saw the star, she looks a bit... different.
Check out the 42-year-old actress on the Los Angeles red carpet for her new flick, decked out in a sexy one-sleeved Zuhair Murad Fall 2012 dress. Maybe it's the dress, maybe it's the makeup -- either way, this is not exactly the Catherine we remembered.
Check out Catherine in July 2007 (left) and just this week (right) and reintroduce yourself to the "Rock Of Ages" star.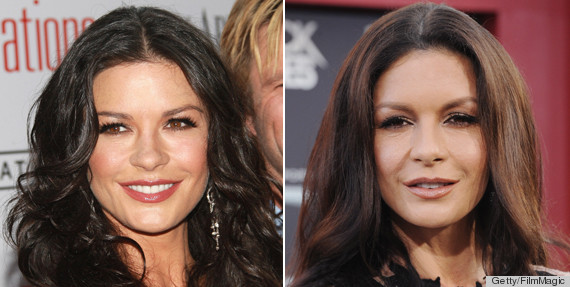 See Catherine's style evolution...

Loading Slideshow
January 1990

Getty

January 1991

Getty

January 1992

Getty

April 1999

WireImage

June 1999

Getty

October 1999

WireImage

December 2000

Getty

September 2002

Getty

March 2003

Getty

March 2003

WireImage

September 2003

WireImage

October 2003

Getty

February 2004

AFP/Getty

December 2004

Getty

November 2005

Getty

October 2006

Getty

November 2006

Getty

September 2007

Getty

October 2007

Getty

October 2007

Getty

March 2008

Getty

March 2008

Getty

March 2009

FilmMagic

June 2009

WireImage

October 2009

Getty

December 2009

Getty

May 2010

Getty

January 2011

AFP/Getty

February 2011

Getty

June 2011

Getty

October 2011

Getty

March 2012

Getty

April 2012

Getty

June 2012

Getty

Red Hot Catherine Zeta-Jones and Michael Douglas Coordinate Outfits

Catherine Zeta-Jones and Michael Douglas decided to match their accessories for an evening out in New York.