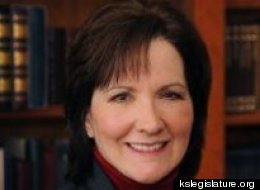 A Tea Party legislator in Kansas compared the state's economic development program with the collapse of the Soviet Union on a conservative radio talk show in Wichita Friday morning.
Rep. Charlotte O'Hara (R-Overland Park), one of the conservative Republicans seeking to unseat a moderate Republican state senator, said on the Joseph Ashby Show on KQAM in Wichita that she is opposed to the state's STAR Bonds program and believes it could lead to fiscal collapse for the state. After Ashby said that the program -- which allows local governments to issues bonds for development projects -- has government dictating business conditions instead of the free market, O'Hara made her comparison.
"That is why communism collapsed," O'Hara said of the impact on government policies on business.
O'Hara is challenging Sen. Pat Apple (R-Louisburg) in an August GOP primary and used the show to attack his record in the Senate, including on STAR Bonds. O'Hara's candidacy was spurred by the bitter civil war that has engulfed the Kansas Republican Party. The melee -- which has paralyzed state government at times -- has led to a series of conservatives challenging moderate Republican senators in primaries this year. Conservatives control the state House and governor's mansion, while moderates have teamed with Democrats to control the Senate.
"Senator Apple voted for that and he does not know what true economic development is," O'Hara said of her opponent's vote for STAR Bonds.
O'Hara, who was first elected in 2010, is known as one of the most conservative legislators in Topeka and has even challenged fellow conservatives -- including Gov. Sam Brownback (R) -- when she believes they have gone astray. Last year, she issued a letter calling for "patriots with pitchforks" to get the attention of the "Topeka elite" after Brownback signed a state budget calling for a 6.7-percent spending increase.
A longtime opponent of the Affordable Care Act, who helped persuade Brownback to reject a $31.5 million federal grant to implement parts of the law in Kansas, O'Hara criticized Brownback last year for accepting another federal grant for a Medicaid technology program. She said it was a way for the federal government to force health care reform on Kansas.
"I'm really disappointed and my confidence in the Brownback administration is in tatters," the Lawrence Journal-World reported O'Hara saying at the time.
O'Hara, a singer and developer, also took to the House floor in May to help lead the fight to pass a resolution expressing opposition to United Nations Agenda 21, an international sustainability program that is not law in the United States. At the time, she said that the program is "a real problem" and "has infiltrated our country."
O'Hara also used the radio show Friday to attack moderate senators for voting to increase education funding in the state, saying it was a "liberal" vote. When Ashby, a Tea Party keynote speaker who last week said he feared a liberal Midwest if Wisconsin Gov. Scott Walker (R) was recalled, said the Kansas National Education Association -- who has backed Apple -- is the "most liberal and powerful" union in the state, O'Hara agreed.
"Absolutely," she said.
Below, a look back at some of the most outrageous Tea Party signs from the height of the movement:
Ten Offensive Tea Party Signs
Photo courtesy of Jesse Russell in Madison, WI.

"The American Taxpayers Are The Jews For Obama's Oven" reads one sign in Chicago--Tony Ramao.

"Our Tax $ Given To Hamas To Kill Christians, Jews and Americans, Thanks Mr. O"--photo by Richard Terk in Sacramento, California.

Courtesy of ginandtacos.com

One stream-of-thought poster reads, "No Taxes. Obama Loves Taxes. Bankrupt USA. Loves Baby Killing"--photo by Mary Wood.

"Barack Hussein Obama The New face Of Hitler"-- T. Romao, Chicago.

Edward Favara sent in this photo from Tampa, FL. A black figure that resembles President Obama is portrayed slitting the throat of Uncle Sam.

Photo by Eric Aguirre in Bryan, TX.

A car size sign blames Presidents Obama, Clinton and W. Bush for abortion, sodomy, socialism, and the so-called New Word Order--photo taken in Columbia, SC by W. Salter.

Photo by Bernard J. Schober in Phoenix, AZ.