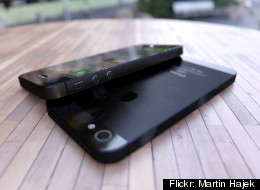 Every week, the numerous blogs covering the mysterious Apple empire float unconfirmed rumors, blatant speculation and questionably-sourced reports on what the company might be unveiling in the near or distant future. Let's take a look back at what the Apple blogs were excited about during the week of June 3 - 9. Check out our last edition of Apple rumors here, and for all the latest follow me on Twitter right here.
Juiciest Apple Rumors Of The Week
The past several weeks of Apple rumors have seen a cascade of leaks showing the apparent back design of the iPhone 5. Two weeks ago we had photos of the back plate, and last week we had video of that two-tone design and casing for a larger 4-inch screen. And so we come to this: A 3D rendering of what the iPhone 5 might look like in all of its finished glory, IF those myriad leaks prove accurate. Designer Martin Hajek posted these lovely renders on his Flickr stream, and you can see more there. (Via Flickr: Martin uit Utrecht).

If you buy a white one, this is. The dazzling illustration comes, again, via Martin Hajek's Flickr. Here you can see the taller 4-inch screen; the smaller dock connector; and the headphone jack moved to the bottom of the phone. All of that aligns with what we've been seeing for weeks now, based on alleged leaks from the Asian supply chain. (Via Flickr: Martin uit Utrecht)

For Father's Day. Love you, Dad! (Via 9to5mac.com).

Ming-Chi Kuo -- the generally super-accurate analyst from KGI Securities -- says that iOS 6 will be ready for our iPhones and iPads in September. He adds that he expects the next-generation iPhone to be released later that month. Most expect the iPhone to look something like the last three renders -- four-inch screen, smaller dock connector, a bit taller than the current model -- and also to come with 4G LTE, which chips Qualcomm are apparently hard at work on as we speak. Anyway, the big news here is that Kuo -- who, again, has been very accurate with predictions recently, having correctly identified the launch of a Retina MacBook days before WWDC -- thinks the iPhone 5 will be out in September. That follows a report from the (less reliable) analyst Brian White also calling for a September iPhone release. The momentum is building for the next iPhone to release in September. Mark your calendars, Apple fans.

Speaking of Mr. Kuo: After nailing details of the Retina display MacBook Pro before it was announced, he's back at it with more Retina MacBook predictions. In a note to investors, Kuo writes that a 13-inch Retina MacBook Pro should be out by "early October." If this is true, and you're in the market for a 13-inch MacBook Pro, and you've got some extra dough: Maybe wait a few months, if you can. Autumn is looking busy for new Apple hardware.

File this one away, folks, because it's something you don't often see: Apple itself has confirmed a timeframe for a hardware update. The generally secretive company has stated, on the record, that the Mac Pro will go through a refresh in 2013. There was some disappointment that neither the iMac nor the Mac Pro were updated at WWDC; if you were looking for a new model, you're just going to have to wait a year like a good girl or boy. That's all for This Week In Apple Rumors. Make sure to check back next week for your regular Apple rumor refresh; or, if you just can't wait seven days for your fix, you can get all the latest Apple rumors by following me on Twitter right here.