Anna Wintour may hate her (reportedly), but L'Uomo Vogue is totally on board the Kim Kardashian train.
As previously reported, the most famous Kardashian covers the July-August issue of L'Uomo Vogue, the mag's Italian men's edition. It's Kim's first-ever Vogue cover, a major milestone for a reality star with dubious fashion industry cred.
But if you're expecting something a, high-fashion turn from the mainstream star, think again. The theme of the shoot seems to be Kim's fame, with "photographers" chasing the star down as she hides behind oversized shades and a short, Kris Jenner-esque wig.
The accompanying interview also focuses on Kim's celebrity; as the author notes, she was instructed by Kim's publicist to avoid asking about sex tapes, marriages, divorces and other sensitive, tabloid-y topics. What Kim didn't mind discussing, however, was her love of sex, among other things:
"I adore pizza, gelato, and I like making love, I hate cilantro, I have a collection of 224 pairs of Louboutin and I'm scared to death of spiders."
She also didn't mind discussing her love for (sorry, "relationship with") Kanye West, who visited her on the L'Uomo Vogue set:
"Everyone is always watching me, I'm under constant observation, everywhere I go there's a camera following me, in the gym, when I do the shopping, and if I decide to go out without make-up it makes news throughout the world. This is why I don't want to reveal anything about my relationship with Kanye. In the past I suffered a lot because of my honesty, and when it didn't work I was criticized and treated badly: I can only say that now, with him, I'm happy."
So... KIM + KANYE 4EVA? Maybe. We have a feeling that no matter how long the relationship lasts, the media's fascination with Kim will last longer. See her paprazzo-themed Vogue shoot below and at Vogue.it and tell us what you think!
PHOTOS: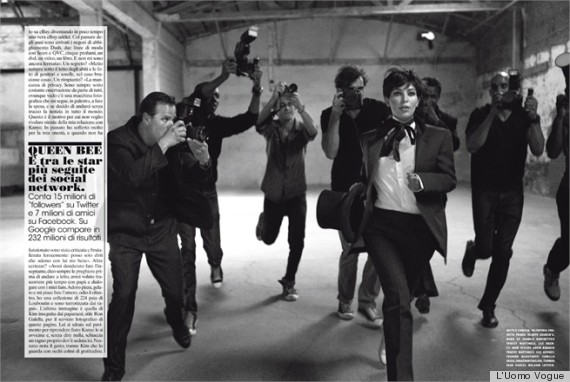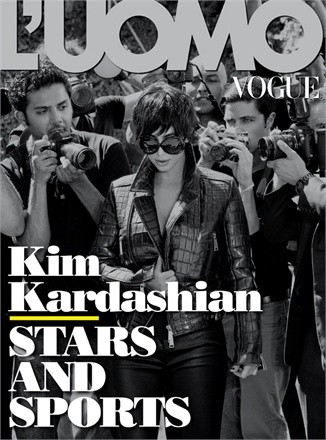 See Kim's style though the years:

Loading Slideshow
With Family, October 1995

With Khloe, Kourtney, Bruce Jenner, Kris and Robert.

With Kourtney, August 2005

With Ray J, March 2006

June 2006

With Paris Hilton, June 2006

July 2006

September 2006

November 2006

March 2007

July 2007

October 2008

March 2008

July 2008

September 2008

October 2008

December 2008

December 2008

December 2008

April 2009

May 2009

With Brittny Gastineau, June 2009

With Reggie Bush, June 2009

July 2009

July 2009

August 2009

September 2009

October 2009

November 2009

February 2010

With Kourtney, March 2010

March 2010

June 2010

August 2010

August 2010

September 2010

September 2010

October 2010

October 2010

WithKylie, Khloe, Kourtney and Kendall, January 2011

January 2011

January 2011

February 2011

March 2011

April 2011

June 2011

August 2011

With Kris Humphries, August 2011

September 2011

September 2011

October 2011

October 2011
Want more? Be sure to check out HuffPost Style on Twitter, Facebook, Tumblr and Pinterest.