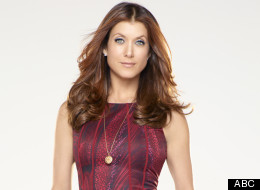 With Kate Walsh announcing this week that she's leaving "Private Practice"after Season 6, Shonda Rhimes' medical drama may be on its way out. However, if "Private Practice" were to continue without Kate Walsh, it wouldn't be the first time that a TV show stayed on air without one of its stars.
"Private Practice" fans might be able to find hope in the "Grey's Anatomy" spin-off's future by looking at "ER," "The Office" and other notable shows who lost their stars.
Check out our round-up below of TV shows in which star cast members left, but they remained on air:
Stars Who Left Their Show
Steve Carell left "The Office" after Season 7, but things went on at Dunder Mifflin without Michael Scott and the show is entering Season 9. "Steve felt terrible about leaving because he was worried that it might mean the end of the show. He didn't want to be responsible for that," executive producer Greg Daniels told EW.com. "He really wants the show to continue after he's gone. Part of it is because he's very fond of everybody who works there. And one of the reasons I think we can go on is that he really made it an ensemble."

Michael J. Fox left "Spin City" at the end of Season 4 in an effort to spend more time with his family and focus on seeking a cure for Parkinson's, a disease he suffers from. "I want to relieve the strain of producing and performing a weekly network series," Fox said in a statement at the time. Even without Fox's Mike Flaherty, the Deputy Mayor of New York -- which earned him an Emmy -- the show ran for two more seasons.

David Duchovny left his starring role as Fox Mulder on "The X-Files" partly because of an alleged contract dispute that occurred after Season 7 finished filming. Still, he appeared in half of the Season 8 episodes, but only then reappeared for the series finale at the end of Season 9.

Shannen Doherty left "Beverly Hills, 90210" after Season 4. Though she starred as Brenda Walsh, the twin of Brandon (Jason Priestley), her character was written out of the show, having moved to London to attend school at the Royal Academy for Dramatic Arts. Her wild ways and bad behavior sent Doherty packing, but the show continued. The original ended after Season 10 and led to a 2008 reboot on The CW, "90210," which Doherty did appear in.

Shelley Long left "Cheers" after Season 5, when the show was as its height. Long won an Emmy for her portrayal of the portentous Diane Chambers -- and on-again-off-again love interest for bar owner Sam Malone (Ted Danson) -- but eventually, she had enough. "I didn't want to keep doing the same episode over and over again and the same story," Long later explained. "It had been such a fresh and vital experience for me, I didn't want it to become stale." Kirstie Alley replaced Long as Sam's love interest and the show continued for six more seasons. Long made it back to "Cheers" for the final episode at the end of Season 11 in 1993. The show ran for eleven seasons.

Chad Michael Murray left "One Tree Hill" after Season 6 in the wake of a lot of speculation about the fate his character. Long star-crossed Lucas (Murray) and Peyton (Hilarie Burton) left the series as they rode off into the sunset after finally getting hitched at the end of Season 6, but the show ran for nine seasons despite the loss and the controversy. "The audience may not accept a new version of the show. But we've reinvented it a few times before. I don't want to be dismissive of Chad and Hilarie, but ... you're either in for this new show or not," creator-executive producer Mark Schwahn told EW.com. "So every week, to talk about Lucas and Peyton actually feels like it hurts us more than it helps us. Obviously, they were a huge part of 'One Tree Hill.' But you move forward." But Murray did make a guest appearance in the final season of "One Tree Hill."

Cindy Williams left "Laverne & Shirley" during its final season. The actress, who played the sweet and beloved Shirley, departed after the second episode of Season 8, when she became pregnant with her first child. However, there have also been reports that there was tension with Williams and co-star Penny Marshall and the production company for quite some time. After leaving the show, she filed a $20 million lawsuit against Paramount Pictures, which was settled out of court.

Katherine Heigl's departure from "Grey's Anatomy" was a long and painful one. It all started when Heigl began focusing on her film career and refused to put her name in for Emmy consideration. The bad blood continued when Heigl reportedly did not show up for work, forcing the actress and "Grey's" creator Shonda Rhimes to come to an agreement to release her from her contract immediately in the show's sixth season. She told EW that it was for family reasons, adding, "I know I'm disappointing the fans ... I just had to make a choice. I hope I made the right one." Though fans seemingly haven't missed her character Izzie Stevens, Heigl has: While promoting her movie "One For The Money," the actress made numerous comments about wanting to return. The show is entering Season 9.

Jimmy Smits left "NYPD Blue" in Season 6, after replacing David Caruso in Season 2. The actor opted not to renew his contract and his character Det. Bobby Simone became ill with an enlarged heart and thus, he was replaced by Rick Schroder as Det. Danny Sorenson. Though Caruso's departure was uglyl, Smits honored his four-year commitment to "NYPD Blue." "It's a lot of a workload doing an hour dramatic show. It's just incredible what little time off you get," Smits told the New York Daily News. "Variety is the thing for me to be able to work in theater and be involved in more films and TV movies that say something." The show ran for 12 seasons and Smits made a final appearance in 2004.

Jennifer Morrison played Dr. Allison Cameron on "House" for nearly six years, but was written out the series in the middle of Season 6. She did, however, return for the "House" series finale earlier in 2012.

Michael Learned won three Emmys her role of Olivia Walton on "The Waltons," but left the show during Season 8. On the show, Olivia developed tuberculosis and entered a sanatorium in Arizona. "I am so exhausted after doing this show 12 hours a day, five days a week for seven years that I need a vacation," Learned told People. "Nobody can understand the pressures of doing an hour-long TV show unless you've done one ... I couldn't keep it up." "The Waltons" ran for nine seasons and Learned did appear in the three Waltons reunion movies throughout the '90s.

For nearly a decade, William Petersen played Dr. Gil Grissom on "CSI: Crime Scene Investigation." But the actor left the CBS crime drama after its ninth season to focus on his stage career. (He'd previously taken a break from "CSI" to do a play with Liev Schrieber.) Still, the series rolls on and will enter its thirteenth season in the fall. "Shows lucky enough to go this long inevitably have to deal with this kind of change," executive producer Naren Shankar told the AP at the time of Petersen's departure.

Dick York played Samantha's moral husband Darrin on "Bewitched" for its first five seasons, but couldn't continue on. The actor suffered from a severe back condition due to an on-set accident earlier in his life. The pain caused problems for York on set and finally, in January 1969, the issue caused York to collapse at work and he was rushed to the hospital. "I had a board in my trailer where I would flatten out," he told People. "And on the set the crew would help me. They would plant someone on the other side of a door in case it was too heavy for me to open by myself." The show was on for eight seasons and finished its run with Dick Sargent in the role that York originated.

Don Knotts left "The Andy Griffith Show" near the end of Season 5. Thinking the show would not be continuing, Knotts had made up his mind to move on to movies. The show, however, did continue and ran for eight seasons.

Suzanne Somers left "Three's Company" in its fifth season due to a reported contract dispute. It continued without her, ending in its eighth season.

Jessica Biel left "7th Heaven" in its seventh season due to reported complaints about her rebellious attitude. The show ran for eleven seasons.

on Howard left "Happy Days" and Richie Cunningham behind after Season 7 in 1980 to focus on his directorial career. The character was written out and joined the United States Army, but made guest appearances on the series in the show's final season, Season 11.

Topher Grace said goodbye to the 1970s and left "That '70s Show" after Season 7 to focus on film work. His character was written out and sent to teach in Africa. "That '70s Show" only lasted one more season and Grace returned for a brief guest appearance in the series finale.

Delta Burke left "Designing Women" after Season 5, but the show ran until Season 7. Burke's character, Suzanne, was sent to Japan and sold her part of the design business to her cousin Allison Sugarbaker (Julia Duffy). Burke left the series after speaking publicly about off-screen tension with co-stars and producers of the series.

Elizabeth Berkley left "Saved By the Bell" during the fourth and final season of the series. NBC ordered additional episodes, but by doing so, he had to re-sign the cast to new contracts. Berkley and Tiffani Thiessen didn't sign on and their characters were replaced by Tori Scott (Leanna Creel). Berkley and Thiessen were featured in the series finale, the graduation episode, which was filmed before they left the series.

Rob Lowe departed "The West Wing" after Season 4, and his character's failed Congressional bid. His character stuck around California and joined a law firm. Lowe left the series over respect and money, he told Oprah Winfrey. He returned to "The West Wing" during the seventh and final season, and appeared in the series finale.

Anthony Stewart Head, known as Giles to legions of "Buffy the Vampire Slayer" fans, left the Scooby Gang during Season 6. Head reportedly left to spend more time with his family, who continued to live in the UK, but made several appearances through the end of the series in Season 7.

Mischa Barton flew "The O.C." coop in Season 3 when her character was killed off. Rumors circulated about Barton's behavior on set being the reason her character was written out, but nothing concrete was ever revealed. The show ended after Season 4. In 2011 she told Zap2It that it was hard for her to embrace certain aspects of the fame that came along with the show.

Charlie Sheen was fired from "Two and a Half Men" in a blaze of tiger blood controversy. After Sheen entered rehab, the show was put on hiatus, but Sheen took to the press and made several attacks against series co-creator Chuck Lorre. CBS halted production for the rest of the season and dismissed Sheen, who then went on to do even more interviews slamming the network and the people behind the series. Sheen's character was killed off and replaced by Ashton Kutcher. "Two and a Half Men" is now entering Season 10 and sheen is heading for FX's "Anger Management."

Every original actor left "ER" by the time the show ended after Season 15, but Anthony Edwards' departure during Season 8 was the biggest shake-up. Edwards' character, Dr. Greene, had been the central character for the first eight years of "ER," but was killed off before the Season 8 finale, reportedly so he could spend more time with his family. Edwards returned to "ER" during the show's final season through flashback scenes.

Marg Helgenberger left "CSI" during Season 12 of the hit CBS series. An original cast member, Helgenberger renegotiated her contract several times during the show's run before announcing her plans to depart during Season 12. Helgenberger has said she'd be open to returning to the series, which is now entering Season 13.