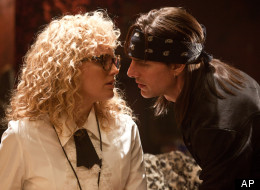 "Rock of Ages" is the story of a small-town girl (Julianne Hough) and city boy (Diego Boneta), but it's Tom Cruise who critics are praising most.
"Cruise is without question the best thing about 'Rock of Ages' and certainly the only reason to see it," writes Will Leitch for Deadspin about Cruise's performance as Stacee Jaxx. "It's not necessarily good, but it's insanely watchable, and every scene he's not in, you keep waiting for him to come back."
Echoed Manhola Dargis in the New York Times, "A whispering and writhing Mr. Cruise makes ['Rock of Ages'] watchable."
This is not to say every critic enjoyed Cruise's shirtless take on Stacee Jaxx, a rock god in the mold of Axl Rose.
"He's fun to watch in his first few scenes, hamming it up as a spoiled rock'n'roll satyr," Movieline critic Stephanie Zacharek notes. "But the role quickly becomes a retread of the one he played in 'Magnolia,' only in a different costume. Cruise can't hide his cockiness -- it's in his blood. But even when he tries to kick back and poke fun at himself, he takes the job so seriously that it becomes a sort of grind. There's nothing sexy about him, unless you find studied posturing erotic."
As for the film itself, there seem to be two camps forming: one which found "Rock of Ages" to be a cheesy -- if overlong at more than two hours -- delight; the other which found it unbearable.
"I haven't seen a movie this bad since 'Battlefield Earth' and 'Howard the Duck,'" writes New York Observer critic Rex Reed. "The filthy, disgusting script is by three people who should remain nameless, but I can hardly believe one of them is Justin Theroux, a good actor who would do the world a favor if he dropped his laptop off the top of the Chrysler Building." Reed later compares "Rock of Ages" to an iron lung.
Wrote New York Post critic Lou Lumenick: "This plodding mess may help put to rest Hollywood's inexplicable two-decade love affair with the awful '80s, a pop- culture decade that's overdue for a break."
"Rock of Ages" currently has a 42 percent rating on Rotten Tomatoes. Check out more reviews for the film below.
"Rock of Ages" is exuberant, silly, overlong, sexist; it's clever in little matters and proudly dumb in the things that should count.

The actors are having a lot of fun, and the production values of the musical numbers are slick and high-spirited.

"Rock of Ages" is an effulgent celebration of fakeness. It isn't trying to be real; it's trying to be faker than any fake thing has ever been before.

Most of the numbers in Rock of Ages are flatly shot and choreographed, and they look as if they'd been edited together with a meat cleaver. With rare exceptions, they don't channel the excitement of the music - they stultify it.

A shameless crowd-pleaser where cardboard characters use the most overplayed and ubiquitous hits of the 1980s to express the aching banality of their souls.

As with Shankman's knowingly naff 'Hairspray', the sheer performance gusto on display proves thoroughly winning.

Like every one of its songs, it makes a lot of noise about nothing much and cockily straddles awfulness and greatness. It's enormously entertaining nonsense.

If the Adam Shankman film's debasement of its subject into campy kitsch is the unavoidable fate of all culturally dangerous art, that doesn't make it any less palatable.

Given the proliferation of high-school musicals and American idols on TV, the spectacle of aspiring young singers belting out an umpteenth cover of Journey offers little in the way of novelty value.

[Shankman] succeeds in draining most of the fun from a vehicle that was all about the winking humor of its flagrant cheesiness.